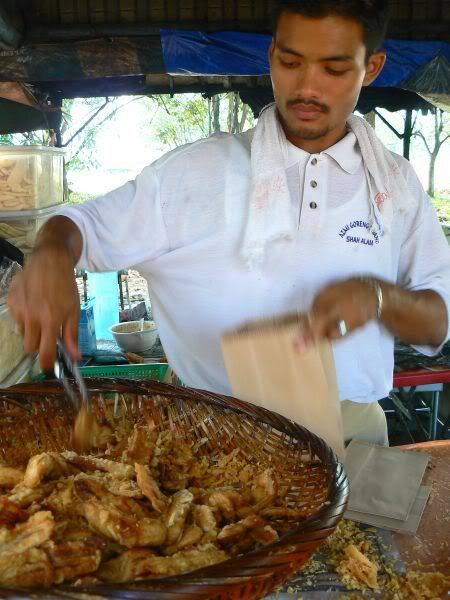 Pick me! Pick me!

Ahhhhh, what a great break I had. Finally I had the time to search for food, cut my hair, watch Ironman (great movie!) and enjoy life a bit even though I had to work in between my holidays. I also managed to catch up with old friends from Hong Kong - we sat at Devi's Corner and easily drank 20 plus cups of teh tarik, teh o limau panas, ate rotis and etc, to rack up a bill of RM60.


Crunchy fried bananas, fresh from the wok
On to food.....as my tummy rumbles at this hour. I first found out about this scrumptious fried bananas or goreng pisang, at the Subang Taipan area. Located at this cafe called D'Andaman, you will see this amazing scene, every day. People will queue up for the fried bananas and when a fresh batch arrives from the kitchen, within a few minutes, it will dissapear in brown bags clutched by happy people, who got their share. However, there will always be some glum faces, as some don't get their share. Luckily its just another 15 minutes wait for the next batch.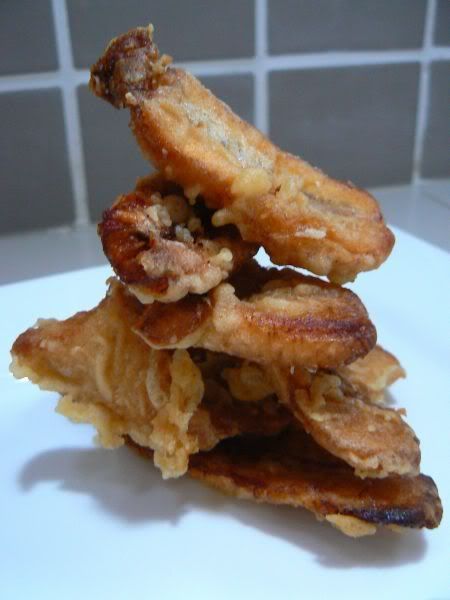 Stacked high - see how thin the bananas are
The Taipan outlet is a branch of the original Azmi Pisang Goreng in Shah Alam...which I finally found yesterday. Quite easy to find, especially if you know where the KTM Komuter station is. Unlike the busy Taipan stall, where parking is a nightmare - this is just a stand alone stall built by Majlis Perbandaran Shah Alam. Here, you don't need to wait too long, as they keep frying the bananas in two big woks filled with hot oil at the back of the stall. Moreover, parking is super easy too, since it is near a housing estate, with lots of space to park near the stall.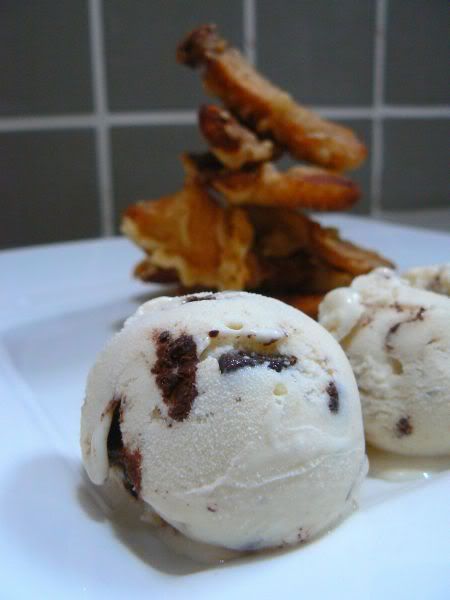 Paired with the ultimate ice cream - Ben & Jerry's Chunky Monkey

Feeling adventurous, I went home with my brown bags of goreng pisang and dug through the freezer for some Ben & Jerry's Chunky Monkey. It was a match made with heaven - super crunchy thin bananas with the banana ice cream and chunks of walnut and chocolate. I even drizzled some honey over the thin slices of bananas and it tasted great too.
These tiny fried bananas taste excellent on their own too, as they're crunchy (the batter is not heavy like other stalls) and they thinly slice the pisang awak (a sweeter variety of banana). As they are quite small, it is sold in a pack of 10 pieces for RM1. If you prefer, they have pisang nangka and keropok lekor also. The crunchy batter bits are also highly sought after as people usually ask for extra in their brown bag. Do give it a try, and who knows, you may end up hooked on them, just like me!
Azmi Pisang Goreng
Stall on Jalan Gembala 19/9
Section 19
Shah Alam

(Halal. Tel No: 019 - 220 0478. Available daily from 1pm to 6.30pm. To get to the stall, from the Federal Highway, if you are driving from PJ to Klang, take the left turn towards Kawasan Perindustrian Shah Alam. You will drive past Mycom and UMW and the road you are on, is known as Persiaran Sultan. Cross the overhead bridge and take the first left turn, after these buildings known as CIAST (some institute). The road you turn in, will be Jalan Petani 19/1. Go straight and then take the first left into Jalan Parang 19/8. Take the first right and you will find the stall with Majlis Perbandaran Shah Alam on top, on your left hand side. The KTM komuter station is just down Jalan Parang 19/8.)

*Disclaimer: The opinions expressed here is entirely based on my personal tastebuds and may vary for others. The reviewer also declares that she has not received any monetary or non-monetary compensation from the restaurant for writing this review.

Tagged with: Malaysian Food+ Pisang Goreng

Other review: