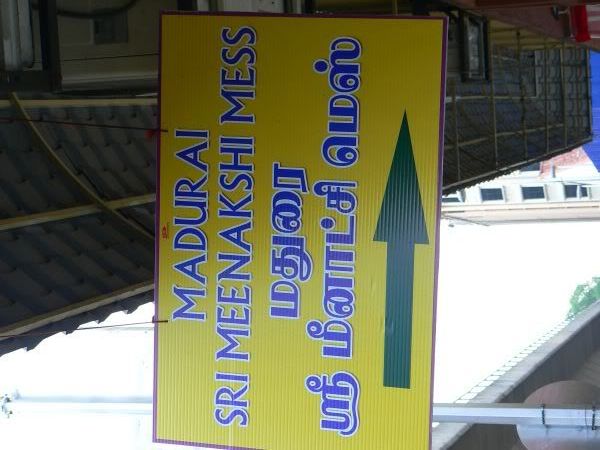 Follow the signboard to budget Indian food

I often practise the belief, if you want to get good food, only the locals will know where to find it. It has worked for me with Japanese restaurants, Middle Eastern food and etc. Apply this same principle and you will discover cheap and authentic Indian food. All you need to do is look for the word "mess" around Lebuh Ampang, and you will stumble upon a great secret that has been kept from others.



fried fish just like mum makes at home

A mess is usually a no-frills place located on the first floor of a two storey shophouse. Unlike restaurants that need the ground floor to draw customers, a mess need not do that as they get their customers by word of mouth. Resembling a dining hall for workers, long tables are set up in a tiny space.



curry brinjals to whet your appetite

Originally popular in India during the British rule, we seem to be getting an influx of these places recently especially around the Lebuh Ampang area. I spied at least 3 places near Lebuh Ampang before I stumbled on this place, that faces the LRT tracks. At these places, Chettinad food is served at cheaper prices to cater for the Indian migrant workers who work around the Lebuh Ampang area. Some workers even have monthly catering arrangements with these places for a fixed sum (around RM100 to RM120 per month).
spicy chicken curry to burn your tongue

The food changes all the time to offer some variety to their customers. When I dined here, I had the honour of sampling fresh fried fish and super spicy chicken curry. On Wednesday and Sunday, they serve Nasi Briyani that is served with a hard boiled egg and yoghurt coated vegetables, which is extremely popular. Prices for a meal can range between RM4 to RM8.

To enjoy your experience, walk up the stairs and explore a bit what they have. Not all messes, are ideal. Before I stumbled on this place, I walked into one next door, that was quite smoky from incense burning, as they were praying. Although they may be devout, it wasn't a place I would like to dine at, since it was so smoky.

Madurai Sri Meenakshi Mess
First Floor
No. 45, Lebuh Ampang
Kuala Lumpur

(Halal. The entrance to this place is along Jalan Tun Perak near the Times Magazine place. Look out for the yellow signs which are quite visible from the bottom and also plastered on the side of the shophouse. Open 11.30 am to 4.00 pm, 6.00 pm to 10.00 pm.)
*Disclaimer: The opinions expressed here is entirely based on my personal tastebuds and may vary for others. The reviewer also declares that she has not received any monetary or non-monetary compensation from the restaurant for writing this review.