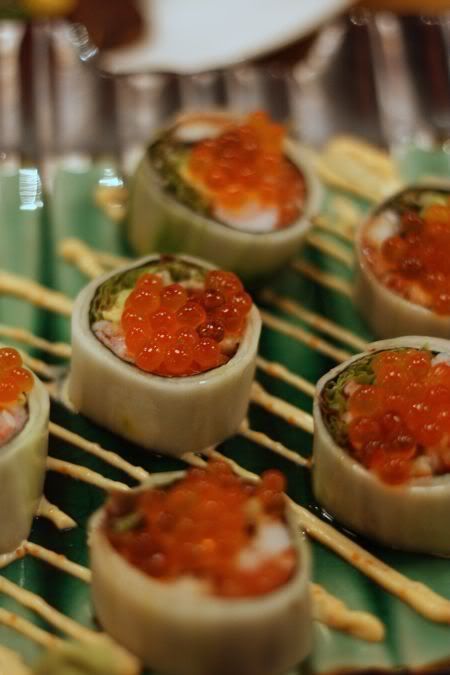 absolutely delish stuff, perfect for carb-less diets also - Jyu Raku Roll (RM28++)
Recently, when we were exploring Subang Jaya for food, we noticed Rakuzen had re-opened after renovations and right next to it was a new Japanese place. Looking very similar to Rakuzen with an almost identical menu is Jyu Raku. From what I read, it seems the former chef from Rakuzen opened this outlet. It is amazing how all these Japanese restaurants survive, as within a one block radius, you find 5 of them trading together - Tomoe, Ryu Men Tei, Jyu Raku, Rakuzen and a little further away is Hyotan. The one that seems to be the most popular among the Japanese is Tomoe and the locals seem to prefer Rakuzen, which is perpetually packed all the time. Dining at Rakuzen, definitely needs tons of patience (don't go with an empty tummy) as not only is it difficult to get a space to sit, you have to wait for your food for quite some time.



assorted kushiyaki with teriyaki sauce (RM35++)

Last night, we decided to give Jyu Raku a try to compare it with Rakuzen. The menu features very similar items hence, if Rakuzen is packed to the brim, you have an alternative place to turn to. However, not everything is spectacular here probably because we didn't order their specialties.



light tasting - hotate no isoyaki (RM25++)

Let's start with the positive side of things. What stood out in taste and uniqueness - their Jyu Raku Roll. The maki is a nice and light (good for those avoiding carbs!) as it omits sushi rice. Instead, a piece of cucumber is wrapped around cabbage and a mix of unagi, prawn and sashimi. Topped with salmon roe, it is refreshing and delish. They must have treated the cucumber also, as it wasn't too crunchy or else it wouldn't have been easy to roll. I definitely would not mind returning for this again and again. A+ for this dish.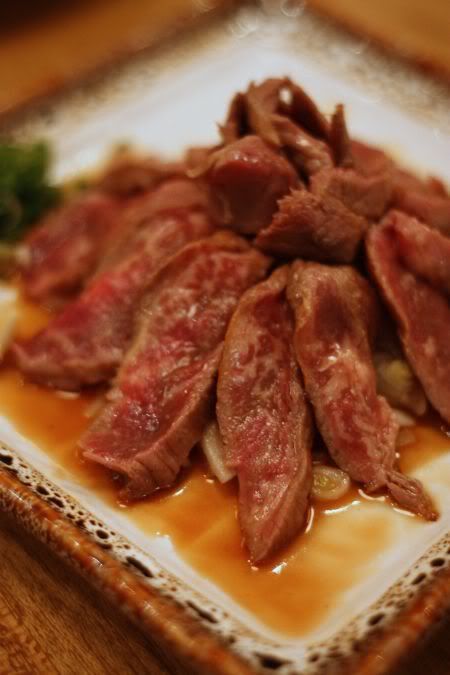 a little different, the gyuniku tataki (RM25++)

The other dishes didn't stand out as well as the maki but were pretty decent tasting. The gyuniku tataki was a huge portion of sliced beef lightly seared drizzled with a soy sauce. For those who hate raw beef, don't take this as it can be very reddish looking. I also liked the kushiyaki or yakitori items. We ordered a variety - mushrooms, green Japanese peppers, asparagus, minced chicken balls, chicken with leek, scallops and etc. My favourite were the green Japanese peppers. However, the teriyaki sauce they coat the items with is not as sticky and sweet compared to Shun, hence you find it a little bland. The hotate no isoyaki, which is essentially steamed scallops with mushrooms and their special sauce was very light tasting. You can't distinguish much of the sweet taste of scallops though.
The one item we totally hated and it was badly done was their tempura. We ordered tempura soba to share and the assorted tempura that accompanied it had a heavy batter. Another no-no was the batter was more golden yellow vs light yellow. Kinda sad, as the bowl of soba was a generous portion with moutain vegetables (sansai), nameko mushrooms and seaweed topping it. While we hated the tempura here, we wouldn't mind returning to try the other dishes like the kamameshi rice (rice cooked in an iron pot) and another order of the Jyu Raku roll. They also do a Japanese version of yee sang here, which looks pretty interesting. More pixs are in the flickr set.
Jyu Raku
13, Jln SS15/5A
47500 Subang Jaya
Selangor

Tel: 03-5633 3819

(Pork free. Open from 11.30am-3pm, 6-11pm for Monday to Thursday. On Friday, Saturday, Sunday and public holidays, open from 12noon to 10.30pm.)
*Disclaimer: The opinions expressed here is entirely based on my personal tastebuds and may vary for others. This review is time sensitive; changes may occur to the place later on that can affect this opinion. The reviewer also declares that she has not received any monetary or non-monetary compensation from this place for writing the review.

Tagged with: Japanese Food + Subang Jaya
Other reviews: