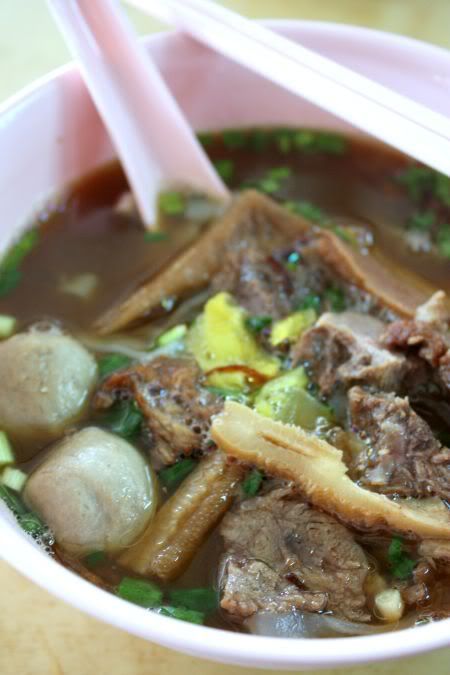 Sorry readers, but I have been extremely busy with work, hence the abandonment of blogging recently. Trying to finish off early, but somehow instead of the work finishing quickly, it seems to pile up more, as the days go by. Sigh!! Didn't manage to eat anywhere interesting this weekend but we did stumble upon an amazing find - Daiso at the Curve, right next to Nichii. For those who love the 100 Yen shop and its knick knacks, this is even better - about 4 shoplots of Japanese stuff i.e. crockery, cutlery, pet stuff, home decorative items, toiletries, car accessories, stationery and etc, prized at RM5 for each item. We went a little crazy there yesterday and bought a pile of stuff, since I am enamoured with anything Japanese.

On to food, I stumbled upon this stall one day, after eating the char kuey teow next door. I eventually went back and tried the beef noodles. Run by an old man, it was pretty good stuff. Not knock your socks off stuff but decent enough, as you could taste the beefy soup. He was also pretty generous with the beef, tendons and stomach bits so I was quite happy. What I also observed at this coffeeshop, the pork noodles were also very popular hence I ordered it for my next visit. Not sure why people order it as it was so dissapointing - full of soy sauce until the sweet taste of the pork broth was killed to death. Don't order it, instead save your tummy space for the other pork noodles place at Restaurant Ten-Tien Fatt, further up the road.
Tangkak Beef Noodles Stall
De Happyland Coffeeshop
USJ 14
Subang Jaya

(Non-halal. Place is directly opposite the Lorong Selamat Char Kuey Teow place.)
*Disclaimer: The opinions expressed here is entirely based on my personal tastebuds and may vary for others. The reviewer also declares that she has not received any monetary or non-monetary compensation from the restaurant for writing this review.