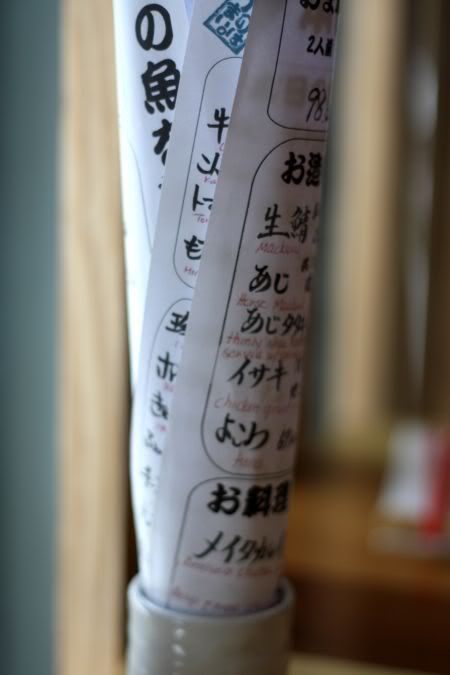 pick from the Japanese inscribed paper for Kirishima's specials

I have been very slack (head down in shame!) in posting.....very sorry, readers. Work and getting ready for the party for Xmas has meant, I abandoned the blog for a whole week. Yikes, very bad habit indeed. I don't even have pictures of the Xmas party spread, as I was so busy running around getting ready, collecting the turkey, preparing desserts the whole day (the lemon sabayon tart went down well plus the Valrhona white chocolate mousse) and etc, that we didn't get there in time for the party.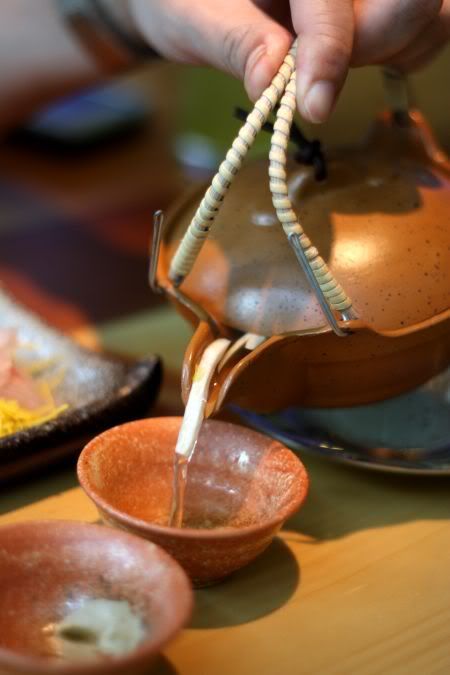 dobin mushi, madam? my fav clear soup filled with mushrooms, leeks, gingko nuts & chicken
During the long long break, we did get to relax and check out new places to eat, so I have a lot to blog about. On my list of to do places, has been Kirishima at the newly opened Dua Annexe, opposite US Embassy on Jalan Tun Razak. Located just next to Delicious, Kirishima is part of the restaurant chain, which also owns Ninja Jones and Yuzu at the Gardens, Mid Valley City. What made visiting them very attractive during this period, was their opening promotion discounts (valid till 31 December, 2008) - 10% discount for set meals, 15% discount for a la carte, 15% for chef recommended sashimi fish and 25% discount for shabu-shabu.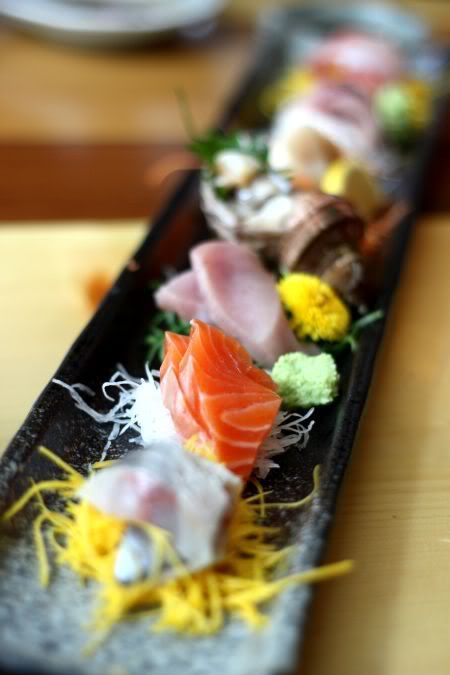 7 kinds of chef selected sashimi (RM98 for 2 pax - RM83 after the 15% discount)
Since we didn't get a booking at the hottest place in town at the moment (aka Tenji, the mega Japanese buffet, which you can eat till you literally roll out of the door) and it was fully booked during the long break, we opted for this instead. Eventually, we did 2 visits here, after we discovered the promotional prices and brought my mother here to try the food.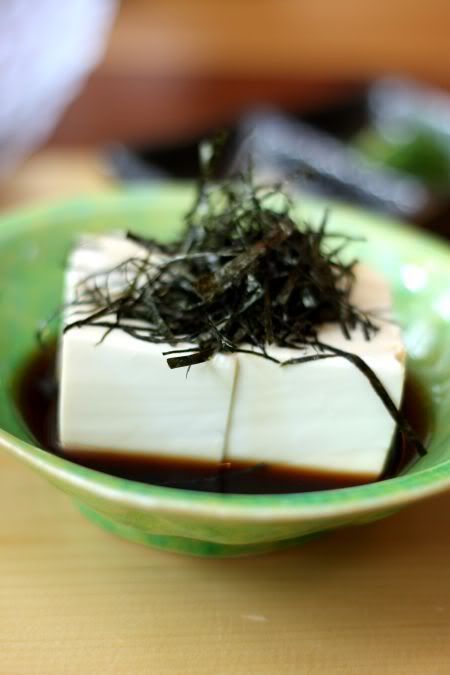 silky smooth cold beancurd

For our first visit here, we zoomed in on the sashimi moriawase (7 kinds of specially selected fish) - really good stuff but don't ask me what they served since I am a dunce with Japanese names. I did spot salmon, scallop. clams, snapper and etc. The next day, when a friend ordered the same thing, they were given a different selection, which had toro (tuna belly). We also had a cold tofu, something I preferred compared to the agedashi tofu they serve here with eggplant. A wagyu beef sesame salad was added - nice and refreshing together with my favourite soup - dobin mushi.


juicy and succulent wagyu saikoro steak

For our second visit here, we tried the sets - I had the really value for money Kirishima Gozen (RM48) and my mother had the Saba Shioyaki Set (RM25). My Kirishima Gozen set was packed with goodies ranging from a small portion of wagyu saikoro steak, 3 varieties of sashimi, 3 varieties of sushi, tempura moriawase, dobin mushi soup, assorted pickles, fried beancurd, a piece of chicken and fruits for dessert! Everything was very good except that piece of chicken, which tasted like it came out from the fridge hard and unappetising. My mother's grilled saba fish was also good - a pretty decent sized fish, which was juicy. Splashie Boy had a bigger version of Wagyu Saikoro Steak, which looked much better than the Wagyu Ishiyaki Steak.

If you are around that neighbourhood, go check out that place, tucked at one corner. It sports chandeliers (weird in a Japanese restaurant), Japanese fabric curtains and lots of mirrors plus one wall of those salt lamps in front. They also do an izakaya style spread for dinner (pick from the counter the food) and serve oden (a set for 2 pax) here. You may want to skip desserts here (the matcha tiramisu looks like an ordinary cream cake!) and head next door for Delicious' desserts instead. For more pictures of the other items we ordered, you can view the Flickr set.

Kirishima Japanese Restaurant
Lot 1.2, First Floor
Dua Annexe
211 Jln Tun Razak
Kuala Lumpur

Tel: 03-2162 8127

(Pork free. Open from noon to 2.30pm, 6-10pm daily. If you are coming from the Smart tunnel, this place is just after Bombay Palace and next to Dua Residency, before the Singapore High Commission.)
*Disclaimer: The opinions expressed here is entirely based on my personal tastebuds and may vary for others. The reviewer also declares that she has not received any monetary or non-monetary compensation from the restaurant for writing this review.

Tagged with:
Japanese Food
+
Dua Annexe