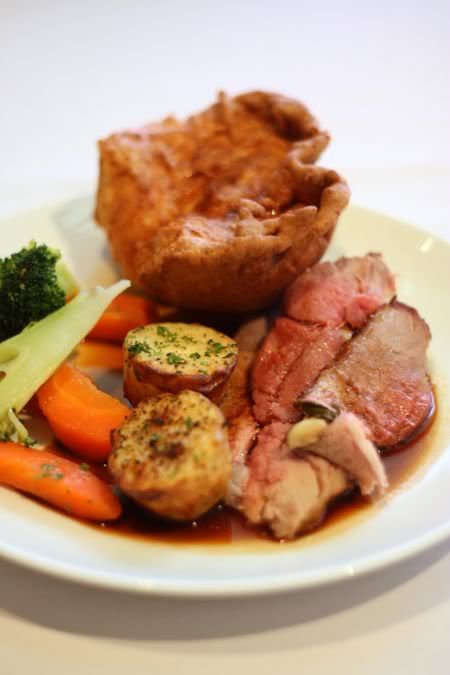 superb roast lamb with yummy roast potatoes and yorkshire puddings

One of my fondest memories in England was the Sunday roast lunches. No matter how awful the meals were during the whole week at my dining hall (I had to stay in a catered hall of residence for my first year), I always waited in anticipation for Sunday. It was a day to laze around, catch up with assignments and savour one of the best meals - roast beef, lamb or chicken with lotsa gravy, roast potatoes and vegetables. It makes up for Sunday dinner, which is usually a let down though (since the cooks go off to church) - cold cuts and salad.



delish chocolate bread and butter pudding with vanilla sauce

We did the new Tastings menu by Chef Haffiz quite some time back and was very impressed with his Slow Braised Daube of Beef Cheeks. Just imagine fork tender beef that melts in your mouth paired with a smooth potato puree - simply heavenly stuff! I didn't blog about it, as I wanted to do a trio of tastings - the dinner menu, the Friday lunch menu (4 course meal with wine for RM120) and the Sunday roast lunch. Work and everything got in the way, so I didn't get my chance until yesterday to try the Sunday offerings.
Since we were at KLCC (for the PIKOM fair, just like the whole world as Splashie Boy was stocking up IT stuff including a terrabyte hard disc for my Xmas pressie!), we decided to try this. We didn't regret stepping in here and trying the buffet even though we tend to avoid buffets. It may not be a lot of food but the taste of certain items blew us away.
I've heard raves of Chef Haffiz's soups before from a friend who tasted it during his Friday lunch offerings, so I was keen to try his garlic aioli soup. Gosh, it was the best soup ever for me - so smooth and rounded, with the distinct taste of garlic. Not overly creamy and heavy like other soups and simply so fantastic, I felt like drinking the whole pot!
There is an array of appetisers - salads (caesar and potato), cold cuts and vegetables, fish cakes and a small platter of assorted maki and sashimi. We didn't want to eat much, hence we only picked a few makis to try and the sashimi (a mix of salmon and another white fish I was not familiar with). Makis were good - with a hint of spiciness within the roll and the sashimi was also nice and fresh.
Both of us were leaving tummy space for the main event - the roast meats. Splashie Boy came back with a fully loaded plate - slices of roast lamb, a chunky Yorkshire pudding, vegetables and roast potatoes. Even though there were other selections - roast beef and chicken, we were recommended the roast lamb as it was nice and tender that day. Splashie Boy gave his thumbs up hence I had the same items with lamb jus, mint sauce and a little wholegrain mustard on the side. Oh man, it was damn good stuff - the lamb leg was stuffed with garlic cloves, hence you had the tender meat with slightly softened garlic bits. I also loved the roast potatoes. Usually the ones you get are hard and overcrisped - this version was slightly fluffy. Although we would have preferred roast beef with our Yorkshire puddings, we were warned that it was a little tough today (we tried and they were right).
To cap off our great meal - we had the bread and butter pudding. Sprinkled with chocolate bits, it was also delicious, not too heavy on the custard but still yielding a rich taste especially with the chocolate bits. If you love solid English Sunday lunches like both of us, do visit Chinoz and who knows, you may see us both enjoying the lunch almost every Sunday here.
Chinoz on the Park
G47, Ground Floor
Suria KLCC
Kuala Lumpur

Tel: 03-2166 8277

(Pork Free. Sunday Roast lunch is RM69++ per pax, RM35++ for children below 12 and starts from 12 to 3pm on Sundays, of course! The soups and appetizers change weekly but the roast selections are: lamb, beef and chicken all the time. If you want to read more about their tastings menu, visit Julian's blog and A Whiff of Lemongrass. Note that the degustation menu offerings change every month and its only available during dinnertime.)
*Disclaimer: The opinions expressed here is entirely based on my personal tastebuds and may vary for others. The reviewer also declares that she has not received any monetary or non-monetary compensation from the restaurant for writing this review.

Tagged with: Sunday Roast Lunch + Suria KLCC