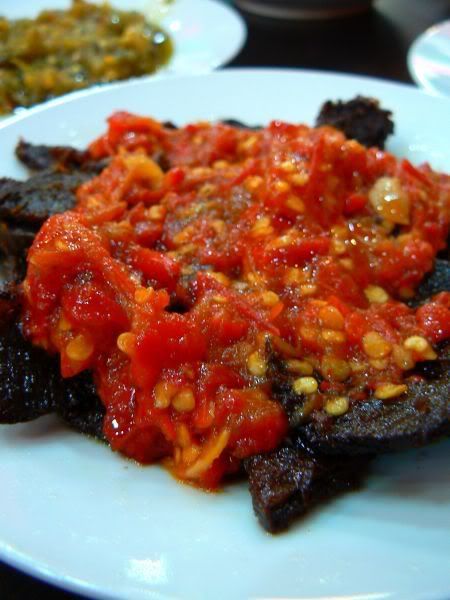 dendeng
Regular readers will know that I have a permanent love affair with Minang or Padang style food. Discovering new places to indulge in my obssession for this type of food, always makes me super happy. Hence, when I heard whiff of this new place in Damansara Perdana, it was top on my list of "must-dos" last Saturday. Been a while since I got excited about a place for food as I have been dining at regular places.


tempe

With vague directions of..."it is in Damansara Perdana", we circled the whole block of shophouses. As we reached the last row of shophouses, we were at the point of despair since tummies were rumbling, wondering if we got the directions wrong. Luckily we struck gold at the last row facing Perdana Emerald Condominiums. Hallelujah! We even found a parking spot near the restaurant - a feat as loads of cars double park at this stretch.



Tunjang

A basic restaurant, the focal point is the array of food stacked on shelves behind a glass counter, at one corner. Zooming in on the food, we ordered our favourites -tempe, tunjang, dendeng, ayam kampong goreng, bergedil, longbeans and the recommended item, Sambal Hijau.
Ayam Kampong Goreng

As usual, we got carried away and between 2 of us, we had a mountain of plates fit for 6 people! First bite of the dendeng, got Splashie Boy's thumbs up. After that, it was just an endless silence between both of us, as we filled our tummies with the yummy food.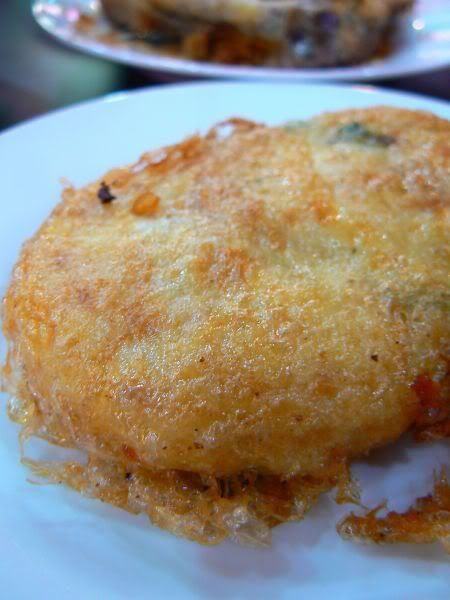 Bergedil

I loved the dendeng, topped with a not spicy but vibrant red chilli sambal. Crunchy and thin, the sweetish sambal went well with the crisp pieces of beef. The bergedil - a type of potato cutlet also got Splashie Boy's seal of approval as it had creamy and soft potatoes within.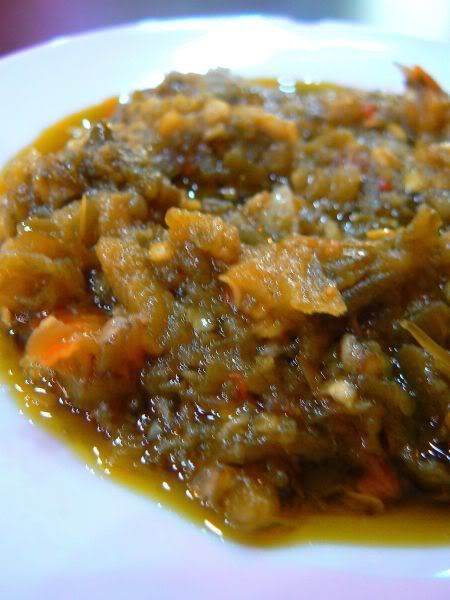 Sambal Hijau

We both loved the tempe - crunchy bits with a sweet taste with fried green chillies for a slight kick and just a hint of tangy sourness. Ayam kampong goreng tasted pretty ordinary but had an interesting topping of fresh coconut shreds. I loved my tunjang - the beef tendons as it was cleaned well plus tender. The gravy it came with was also rich and fantastic with rice. I also loved the sambal hijau - green chillies cooked till tender and sweet.
The bill came up to around RM28, including 3 drinks (I was thirsty that day) which was reasonable. Only thing it didn't live up to its name of spicy padang as the food was not overly spiced but more subtle tasting. Definitely my new hang out place on Saturday for great food. Only bummer is, they're closed on Sunday.
Restaurant Spicy "Padang"
G6C, Jalan PJU 8/3A
Bandar Damansara Perdana
Petaling Jaya

Tel No: 014 - 660 2480/017-6797921
(Halal. Open from 12.30 onwards for lunch and dinner. Closed on Sundays. Row opposite Friendster cafe and Perdana Emerald Condominums. Beware, double parking is common around this area. You can end up with your car being stuck even though you park properly.)
Updated: 2 July, 2008 - Seems this place has closed down. So sad, as this was one of the best Nasi Padang places around.
*Disclaimer: The opinions expressed here is entirely based on my personal tastebuds and may vary for others. The reviewer also declares that she has not received any monetary or non-monetary compensation from the restaurant for writing this review.