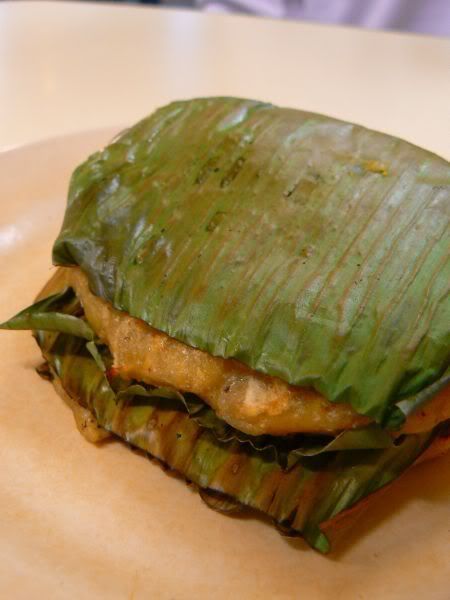 Lempeng under cover of banana leaf

When it comes to food, I can be extremely relentless. Finding time to enjoy during weekends nowadays need to be slotted in between chores. Luckily we finished our chores early - many hands definitely make work seem lighter.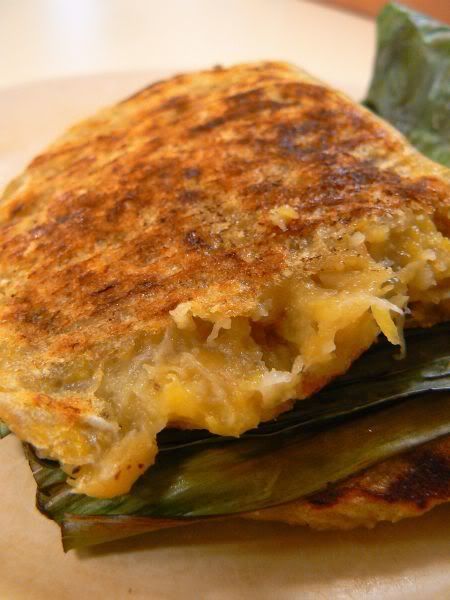 Glory behold, the side profile of the extremely delish lempeng

I had read
cumi & ciki's blog
about the amazing lempeng, hence I knew that was what I wanted to do during my free time. We made our way down town and managed to find Haslam's easily, near Tawakal Hospital. The place was packed with people.

Since parking was scarce, I went down to check, if they were serving lempeng. Spotted a man in front frying up parcels wrapped in banana leaf and a crowd of people surrounding him. Signalling to Splashie Boy, I told him to get a parking spot while I waited for the lempeng.

It was a good move, as the lempeng was fast dissapearing off the greased hot plate. I planted myself firmly next to the waitress and kept relentlessly telling her, I wanted "dua lempeng, makan sini" i.e, "two pancakes, to eat here". I guess that gave me a trump card since I was eating there, as she doled me 2 pancakes ahead of this lady who was buying them to take home.

Success at last, we got a table and both peeled off the banana leaf from the lempeng. After a quick photo session, it was time to dig in and boy! was it worth all that fighting for. Similar to a pancake, this version was a soft concoction of smashed up bananas and freshly grated coconut. Eaten piping hot with a hint of a smoky banana leaf aroma, it was so delish, we could have had a few more. Unfortunately, there were none left.

I asked the waiter what time they start selling, thinking I was too late in my mission - seems they do this daily, 2.30 pm. It was around 3.15pm, when I stood at the hot plate and they had sold out within 45 minutes. A quick glance at other tables and I knew why it had sold out so quickly as everyone dining there had a piece of lempeng on their table.

For the uninitiated, lempeng is essentially a Malay pancake. Usually eaten with a savoury item like curry, this was the sweet version. Really good stuff and the next time, I am around the area, this will definitely be my stopover at 2.30pm.


Restaurant Haslam's
10, Jalan Pahang Barat
Kuala Lumpur
Opposite Tawakal Hospital)

(Halal. Lempeng is RM1 each. Available daily from 2.30pm until they run out which is super fast. For a map, refer to cumi & ciki's site.)

*Disclaimer: The opinions expressed here is entirely based on my personal tastebuds and may vary for others. The reviewer also declares that she has not received any monetary or non-monetary compensation from the restaurant for writing this review.

Tagged with: Malaysian Food+ Lempeng