Stuffed Tofu Puffs
I'm on the roll, this week with my second post in two days. Hopefully I can keep this up! Happy April Fool's day everyone. Do get up to loads of michief and play funny tricks on your fellow colleagues or friends. Seemed appropriate, I should post this today - the day of WIP's official opening. Sadly, I doubt I will be attending since I'm busy with training at the mo. Nevertheless, I did get a preview of the food (finally!), last week when we dropped by for dinner.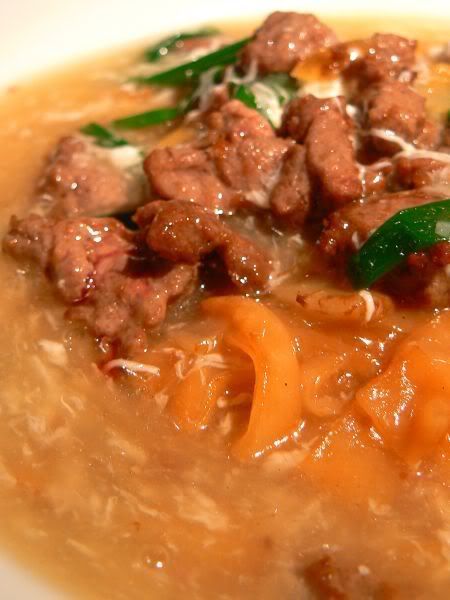 Beef Kuey Teow

As everyone knows, the people behind WIP are Fred and Michelle, the same ones who own Souled Out. That place used to be my absolute favourite place to hang out with friends and the defacto celebration place for our office events. However, as that place got more and more popular, it became a pain to get a table there, when we felt the impromtu need to drop by.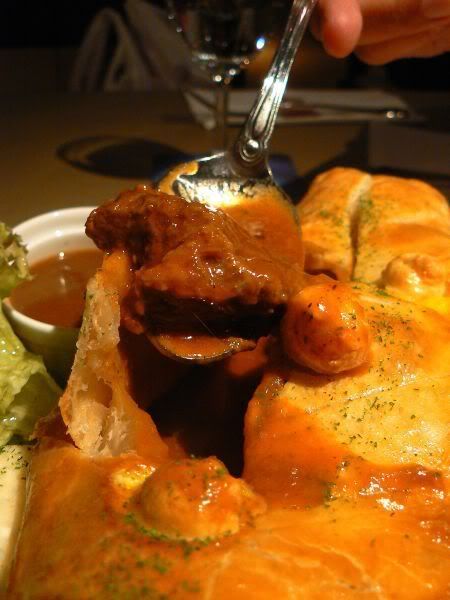 Paddy's Pie

Hence I was excited to discover this new joint. Serving the same type of food, I preferred the ambience here versus Souled Out. Decked to resemble a work site, with black and yellow tapes, my favourite part were the wait staff. They're all dressed like workman, with overalls and t-shirt in yellow and brown. I especially like the torch perched on their heads. The place is also more cosier than Souled Out, with less of a crowd.
Foodwise, it was average. I reckon they could have done better with my Beef Kuey Teow - eggy gravy with little taste. I loved this cute stuffed Tofu Puffs they had for snacks. Perfect for those waiting for their pie. Splashie Boy had the famous Paddy's Pie - very good stuff with chunks of beef in stew. Overall, I enjoyed myself and wouldn't mine returning again for another meal.
WIP
Lot G111, Ground Floor
Bangsar Shopping Center
Jalan Maarof
59100 Kuala Lumpur

Tel: 03-2094 1789/2789