It's the weekend (ta da!) and cat blogging time. If you want to share pictures of your lovely kitties, just leave me a comment with your permalink! and add a "weekend cat blogging" tag to your post!
This weekend, I bring you the Bollywood edition of WCB! I am not a great fan of Indian movies but I always remember them for their courtship dances around the coconut tree. Nowadays, they don't do that anymore but perform these slick choreographed dances ala Britney Spears.
Let me introduce to your the stars of my show. Here's the male star of the drama, the ginger kitten who has invaded my home and wants to stay in it permanently. Like any male star, he is charmingly cute and always wheedling his way to your heart.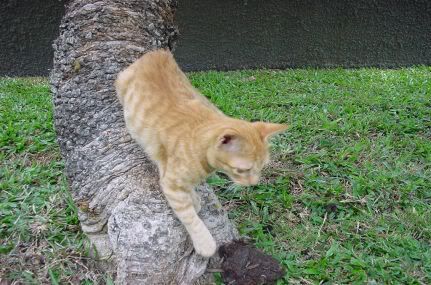 Then we have the shy but beautiful female star, Meow Meow who lives a sheltered and pampered life at home. Always a romantic, here she is pining for the one cat who will sweep her to the sunset. If he does not come, a big bowl of cat food will be perfect too.




Unfortunately Meow Meow hates the ginger kitten whom she sees as a threat to her family's happiness. They were doing a little chase around the tree (not captured as my camera will take blurry pixs if the object is in motion) but here they are, where Meow Meow is doing the classic "go away" look. The ginger kitten is thinking to himself that she must have the hots for me since I am so cute and throwing me so much attention.




Meow Meow giving the cold shoulder to the ginger kitten since snarls will not do! Ginger kitty thinking to himself, female cats are so mah kwai fan (chinese for complicated!). There are more fish in the pond that are cuter and less complicated than this cat, let me go look for some.




Not sure if they will fall in love with each other eventually. Guess time will tell but so far, Meow Meow is tolerant towards the ginger kitten although sometimes, she can be quite bitchy to it.

Lotsa kitties joining us this weekend:
Kiri in his lovely garden enjoying some yummy grass at

eat stuff

;