Linda from
At Our Table
has come up with this month's theme and it's all about frying! Wow, what a wonderful excuse to get down and dirty with lots of oil. I was a bit stumped this time around as there was so many fried items to choose from. Arrgh, decisions, decisions! Eventually after a few changes, I decided to cook an entire meal based on the different types of frying methods i.e. deep fry, pan fry and stir fry.

Pie Tee with Seafood Filling

To kick off my fry up menu, we had pie tee shells with a seafood filling. Pie tee is actually a popular
Nyonya food
item and is served in restaurants as an appetiser or a snack. The shell is made from a rice flour batter and deep fried until it is crispy. It is also known as "tophats" as some make the shell with a brim which resembles a tophat. I have yet to achieve the tophat look and will have to keep practising till I get it right.
There is a special pie tee mould with a long handle so one can dip it in the hot oil before coating it with the batter. Once coated, it is dipped back into the hot oil to cook until crispy. To achieve the top hat brim, one must tap the mould lightly on the side of your pan so the top expands a bit. This tapping also helps you to remove the shell from the mould later on. For my pie tee shells, I used an Amy Beh recipe which is available on the
Kuali
website. I found that in the beginning when I started making the shells, they came out too thick but gradually after doing a few, my shells got crispier and better. In fact, I made two batches as the first batch had a slight accident when one overzealous ginger kitten decided he would make it his meal. When I realised that the kitten was sniffing the plate, I shouted at it and the whole plate toppled and the crispy shells were all crushed.
Usually the filling is made from shredded turnip or yam bean and garnished with shallot crisps but I wanted something different so I whipped up a seafood filling. Originally. I wanted to add fresh scallops to the filling but on Friday when I was at the supermarket, the scallops just did not look fresh so I switched to some baby clams. I just stir fried some chopped garlic in oil, added some peeled prawns, the baby clams and some dried scallops which I had soaked in hot water. These were dry fried with a dash of soya sauce and shaoxing wine added for flavour. Once it is cooked, I stirred in some chopped macadamia nuts and pan fried pine nuts to give it a nice crunch. You will need to cool the filling first before adding it to the shells. Sprinkle with some chopped spring onions and serve with your favourite chilli sauce. The pie tees was sweet with the seafood filling and great to start the meal.




Barely Cooked Salmon with Tobiko Caviar Crust

For the main course, we had salmon which I chose to pan fry with a slight twist. I have read about unilateral cooking method where you cook the food only on one side hence I was curious to try it out. The concept of this type of cooking is, the bottom especially the skin is hot and crisp, the middle warm and just cooked while the top is still raw. Inspiration for this recipe was from Flavours, the magazine who originally got it from Chef Martin Aw Yong, The Regent Hotel Kuala Lumpur. Although the original recipe added a curry dressing, I had omitted it in my version.

In order to ensure the temperature of the salmon does not fall further once you finish pan searing the salmon, you need to top it with the chopped spring onions and the tobiko caviar before you start cooking it. To garnish the top of my salmon, I added some spring onion flowers. I also deep fried thinly sliced kai lan and sprinkled them around the salmon as my vegetables for the night. This was my favourite item on the menu as the salmon was wonderfully tender and I liked the crunchy skin at the bottom.

90g salmon fillets
1 tablespoon olive oil
1 pinch of sea salt
1 pinch crushed black pepper
5g chopped spring onions (you can add some Japanese pickled ginger and chives instead)
10g tobiko caviar

For the paprika creme fraiche, mix together 25ml of creme fraiche with 1/4 teaspoon of paprika powder.

Season the salmon with 1/4 tablespoon olive oil, salt and pepper. Top the salmon with the chopped spring onions and tobiko caviar. Heat up a frying pan until moderately hot. Brush with remaining olive oil. Sear the bottom side of the salmon until it is crispy and golden brown. Cook the salmon until changes colour up to about three quarters of it's height. The top should be barely cooked. Remove from pan carefully to a warm plate. Add a dollop of paprika creme fraice and garnish with spring onion flowers.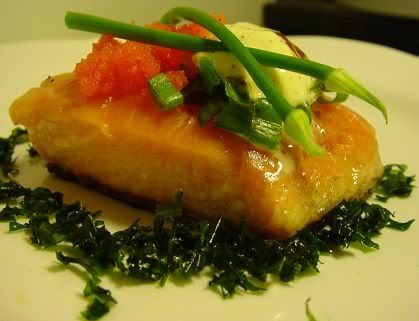 Stir-Fried Fruits with Ginger Ice Cream and Jasmine Tea Caramel
To round up the menu, I gave dessert a new perspective as I stir-fried my cut fruits to give it a nice browned edge. It was drizzled with some sweet caramel and served with a sharp ginger ice cream. I borrowed this idea from my Restaurant Favorites at Home Cookbook by the editors from Cooks Illustrated.

Making the ginger ice cream is so simple as it just meant stirring some ginger juice into plain vanilla ice cream. This was done a night before to allow the ice cream to firm up after it was mixed with the ginger juice. For my fruits, I used a mixture of Granny Smith apple, pineapple, honey dew and strawberry. The dessert was light and not too sweet with the addition of the sharply flavoured ice cream. Just a perfect ending to a light and satisfying meal.

Ginger Ice Cream
One 2 1/2 inch piece of fresh young ginger, scrubbed
1 pint premium vanilla ice cream, softened but not melting

Grate the ginger finely. Transfer the grated ginger to a fine mesh strainer over a bowl. Use the back of the spoon to press down the grated ginger to extract as much juice as possible. Place the softened ice cream in a bowl and using a stiff rubber spatula, fold in the ginger juice. Cover tightly with plastic wrap pressing the plastic flus against the ice cream. Return to freezer for about thirty minutes to firm up.

Jasmine Tea Caramel
1 jasmine tea bag or a handful of jasmine tea leaves
1/2 cup boiling water
1 tablespoon honey
1 tablespoon lemon juice
pinch of salt
1/2 cup sugar
1/4 cup Grand Marnier or freshly squeezed orange juice
Steep the tea in boiling water for 5 minutes. Remove and discard tea leaves/bag . Stir in the honey, lemon juice and salt until dissolved and set aside. Measure 1/4 cup water into a small heavy bottomed saucepan, pour the sugar in the centre making sure it does not touch the sides of the pan. Cover and bring to the boil over high heat. Once boiling, remove cover and continue to boil until syrup is thick and registeres 300 degrees on an instant read thermometer, approximately 6-7 minutes. Reduce heat to medium and cook syrup till it turns light amber, about 1-2 minutes. Remove from heat and stir in the tea mixture being careful about splutters. Return to the heat and cook until syrup thickens, about 5 minutes. Transfer to a small bowl and mix in the Grand Marnier/orange juice and set aside.

Stir-fried fruits
1 tablespoon vegetable oil
1 medium Granny Smith apple, peeled , cored and sliced
1/2 cup honeydew, diced medium
1/2 cup pineapple, diced medium
1 cup strawberries, hulled

Heat vegetable oil in a skiller over medium high heat until smoking. Add the apple, honeydew and pineapple. Cook, stirring frequently until the fruit is lightly browned around the edges. Remove from heat and stir in the strawberries and the jasmine tea caramel. Serve with a scoop of ginger ice cream on the side.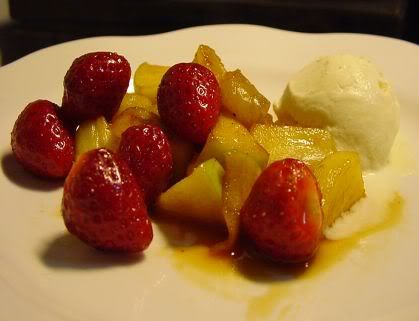 Thanks to Linda for hosting and one will wait with bated breath for the round-up of wonderful entries.