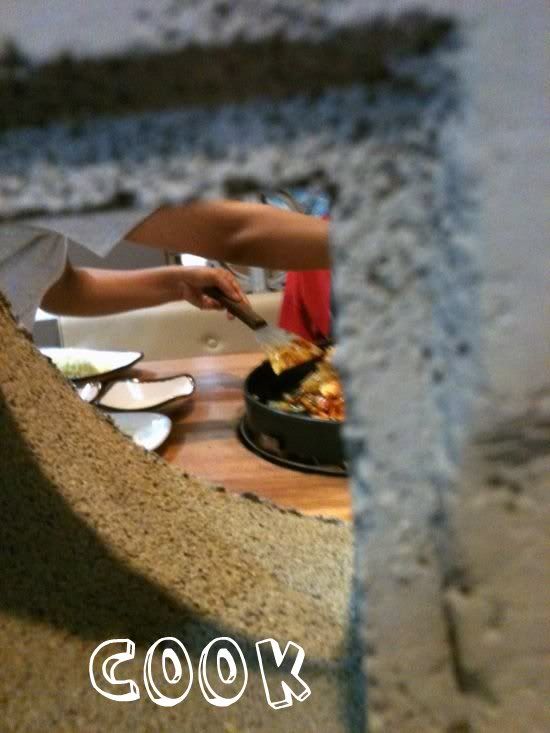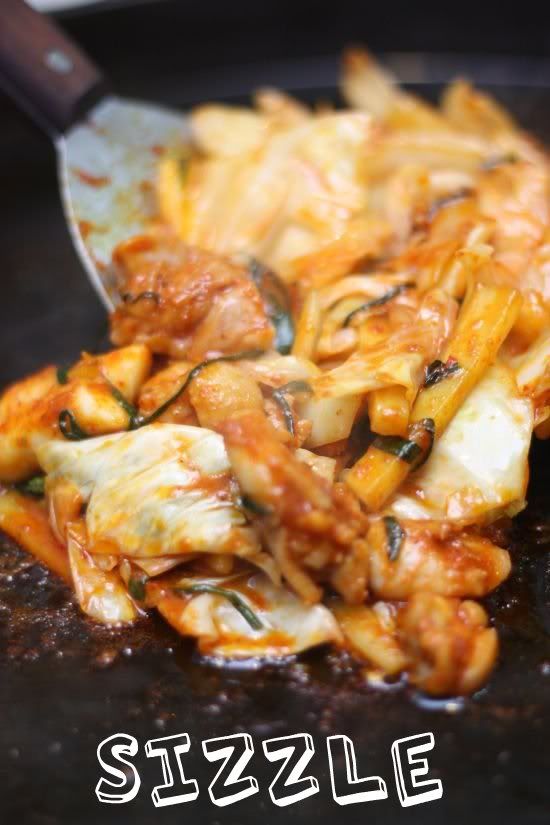 Desa Sri Hartamas is on track to be a bustling Korean town like Ampang with its numerous restaurants, boutiques, grocery stores and even hairdressing salons from the Land of the Morning Calm. Unlike the atypical Korean restaurant, a new culinary phenomenon has recently cropped up in the area - two places serving Chicken BBQ: one at the old Exotic Restaurant and another first floor place on top of Celicakes. Not to be confused with the fast food place (the one that fries in healthy olive oil!), we decided to give the bigger place a try one night since it was well patronised by many Koreans. It seems the place only started business about four weeks ago.
It was a good choice as the food was delicious. Their main star was the galbi or chicken ribs. You have a choice of original dark or spicy dark, each are priced at RM22 per person. Once you place the order, they bring over a platter of vegetables (cabbage, onions, sweet potatoes, spring onions), rice cakes aka tteoksari and chicken. Topped with a fiery red gochujang paste, it's tipped into the large cast iron pot and cooked till cooked. Side lettuces, scary looking chilli peppers, kimchi (cabbage and radish) are served on the side. The menu is relatively limited, there's galbi, pajeon (pancake with seafood and green onion), chicken cutlet and diet noodle tray (looked very colourful). Available for lunch is Korean chicken soup (gamasot dartgyejang), and handmade noodle with chicken (dark sonkaiguksu). Extra sides such as the rice cake, rice, noodles can also be ordered.
We love the chicken, it's spicy but not overwhelming and its piping hot since you pick it up from the pot. The pajeon (RM20) is good too, not too floury or oily with lots of spring onions. Our only complaint would be we kinda picked up the scent of the cooked food. Maybe next time we'll sit outside as the airconditioned area is not equipped with suction fans. I reckon another visit is in the works during the weekend as I want to give their lunch dishes a try. If you love Korean and you're looking for something new, drop by for something different.
(Non Halal. Open from 11.30am to 11pm daily. Place is the same row as RHB Bank, the other corner of Burger King. More pictures including the interiors are in the Flickr set.)
Note: mas-issneun means "delicious" in Korean
*Disclaimer: The opinions expressed here is entirely based on my personal tastebuds and may vary for others. This review is time sensitive; changes may occur to the place later on that can affect this opinion. The reviewer also declares that she has not received any monetary or non-monetary compensation from this place for writing the review.