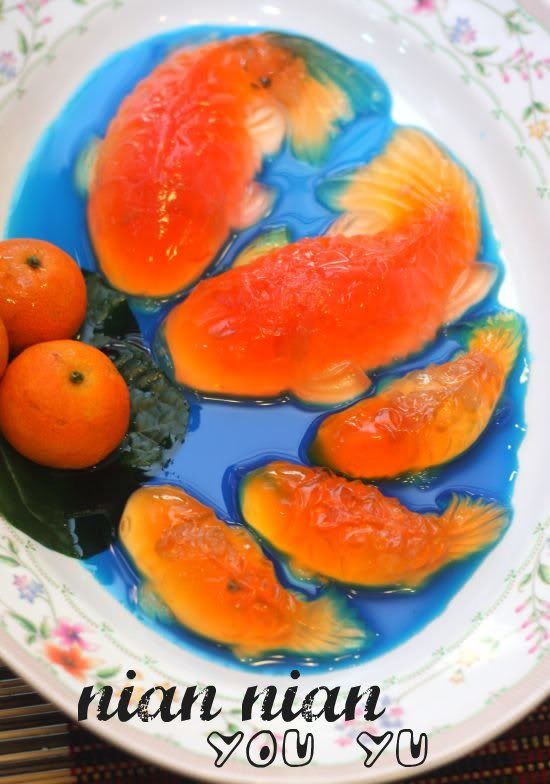 Gong Xi Fa Cai! Apologies for the long blogging holiday but I decided to take a break from writing that my notebook started to collect dust at home. Am sure some of you are still enjoying the long break or have gone back to work today. This is definitely the best time of the year - 15 days of celebrations with family and friends. Eat, eat, eat away...
It's been great homecooked feasts at home or at friends that I'm so stuffed from good food. To kick off the Lunar New Year instead of a rabbit, I thought I'll introduce you to these amazingly good and gorgeous looking koi fish jellies, a friend brought for a party yesterday. It consists of a family of medium sized koi fish and 18 baby koi fish jellies that are arranged to mimic them swimming in a water lily pond (it's actually edible blue food dye). Each of the koi fish jellies are made from Japanese Konnyaku jelly with bits of ginger and nata de coco. The jelly is not too sweet with a nice bite. I especially liked the ginger bits that give it a nice aroma. Best of all, we loved the whole presentation of the jellies since koi fishes are auspicious.
This seasonal jelly is available from Jelly-Lah (a very cute name since it's been Malaysianised) until Chap Goh Meh for RM38 per set. If you wish to order, call 012-3095660. They also have other types of jellies available like ketupat jelly, jelly cakes including durian and mango flavours, and etc. Definitely makes a big change

from cream and cake for that special occasion.
*Disclaimer: The opinions expressed here is entirely based on my personal tastebuds and may vary for others. This review is time sensitive; changes may occur to the place later on that can affect this opinion. The reviewer also declares that she has not received any monetary or non-monetary compensation from this place for writing the review.