hear me roar, says the dragon!
My friends and family have all been very sweet in pampering me with good Asian food the past week, knowing how I ranted about food in Italy. Hence, last weekend for lunch with my mother, she smartly picked my favourite comfort place i.e. Fong Lye that serves one of the most aromatic Taiwanese food in town. I reckon I have blogged about this place and never found fault in anything I have eaten here before. While some others have complained that portions here are small for what you pay for, I never have complaints about that since it means I get to try a greater variety in one meal.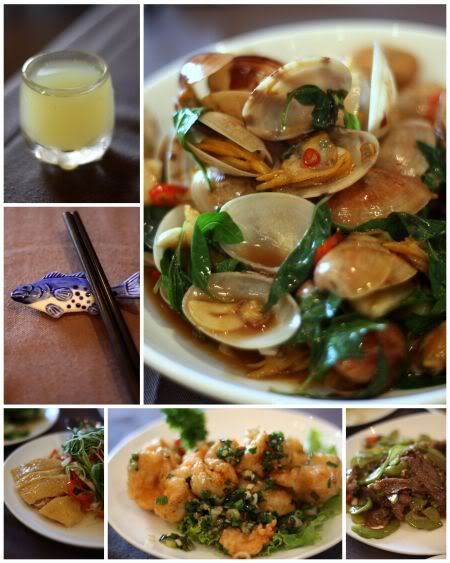 my ultimate comfort food

Typical of my family, we all have our ultimate favourites to indulge in everytime we dine here. Everything is my favourite but I have a very soft spot for the aromatic basil fried clams (I'm usually the one they keep changing the plates for as I pile them with empty clam shells). My mother's ultimate get-her-happy dish is the scallion chicken - juicy and tender free range chicken. It is fast becoming both of our favourites. Another must-have here for all of us, is the sliced bittergourd with beef and recently it has been the fragrant salt and pepper prawns. No fiddly shells to mess with here, hence you can slowly munch on every bit of the crunchy prawns to get utter bliss. Do give it a try, if you are ever in the neighbourhood. Lunch was a little quieter than I remember though, not sure if this is a sign of times. Guess the true test is dinnertime, when the whole world usually descends on this place. For bigger pictures on the dishes, see my
Flickr set.

Fong Lye Restaurant
9, Ground Floor, Plaza Prismaville
Jalan 19/70A, Desa Sri Hartamas


Tel No: 03 - 6201 7998

(Non-halal. Food here is served in individual portions and unlike the Gardens outlet which is mainly set meals.)
*Disclaimer: The opinions expressed here is entirely based on my personal tastebuds and may vary for others. This review is time sensitive; changes may occur to the place later on that can affect this opinion. The reviewer also declares that she has not received any monetary or non-monetary compensation from this place for writing the review.