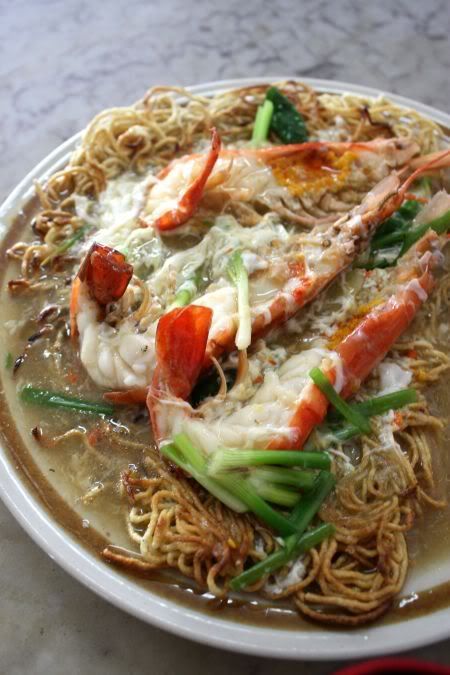 freshwater prawns tops deep fried wantan noodles (RM21 for a single portion)

I was eager to try this place out when I picked up a recently published guidebook that proclaimed it to be one of the best wantan mee stalls around. Hence one day, I drove around the busy stretch of Sungai Besi (which is now a highway) to look for this coffeeshop. While most regular patrons parked in front of the shophouses (next to the shop is an abandoned car showroom), I chose the safer way and went for the side road next to it.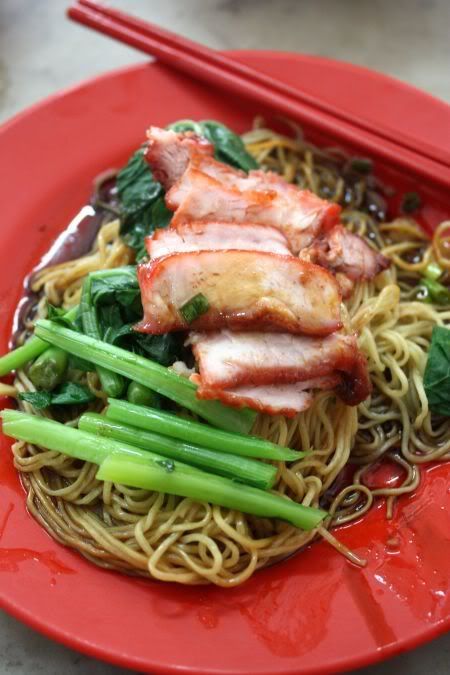 char siu wantan mee

It is amazing I never spotted this place considering I have driven past this road/highway a thousand times. The place is very old school - white ceilings with whirling fans, old marble tables with wooden chairs and from what I gathered from a framed Chinese newspaper extract, they started in 1969! Two signs head the shophouse - an old black wooden one calling it Feun Kee and a larger one calling it Fun Kee. There is even an old California car plate with Fun Kee on one of the front shelves.



wantans with a hint of dried sole powder (chor hau yee)

The place seems to have their own set of regulars - workmen parking their lorries in front, people arriving on luxury vehicles complete with a driver or office workers from nearby looking for a quick lunch.



yummy dumplings filled with water chesnuts, wood ear fungus, prawns and coriander

Here you can order wantan mee with various toppings - the old school char siu slices tinged red, braised chicken feet with mushrooms, braised pork ribs, poached chicken, stewed beef and fried chicken only on Thursdays. They also deep fry the wantan noodles till crisp and top it with freshwater prawns or use it to make Cantonese style noodles and etc. One day, I saw this other table ask for the deep fried wantan noodles topped with just small prawns and vegetables. Looked crunchy and yummy.

I really like the deep fried wantan noodles - crunchy and delicious especially after it has soaked the sweet prawny gravy. While the gravy here is not as eggy as Pan Heong in Batu Caves, I like the fresh taste minus any MSG. The regular char siu wantan mee was average tasting probably because I don't like the old style red coloured char siu slices. Even though it was tender, I kinda crave the sticky black version. I liked the wantans they served the noodles with as it has a slight aroma from dried sole powder used. The dumplings are also delicious - not super crunchy but filled with water chesnuts, carrots, wood ear fungus and prawns.

This place may not qualify for the best wantan mee place in town but I reckon it will remain a favourite for me whenever I hanker for crunchy deep fried wantan mee.
Restaurant Fun Kee
No. 174-5, Jln Sg Besi
Kuala Lumpur

Tel No: 03-9221 1267/1246
(Non Halal. Open from 9am to 9.30pm. Closed on Sundays. The shop is at the same row as CIMB Bank and opposite the Perodua showroom. If you are coming from KL and driving down Sungai Besi, it is on your left hand side and before the old Nichi showroom which has been torn down for new development.)
*Disclaimer: The opinions expressed here is entirely based on my personal tastebuds and may vary for others. The reviewer also declares that she has not received any monetary or non-monetary compensation from the restaurant for writing this review.

Tagged with: Wantan Mee + Malaysian Food