those gorgeous candles all over the place, to set the mood

November is the time to dig deep into your pockets, as it is MIGF time! Starting on 1 November, 28 restaurants are participating this year with special festival menus and offers. Kicking off the celebrations, was the Gala launch last Thursday. Here all the restaurants will particpate by setting up booths with sampler portions of their festival menus. It is a good way of figuring out, which place you want to dine at.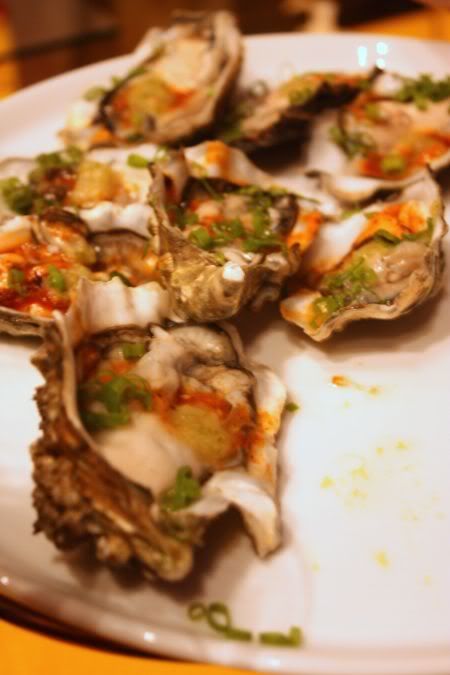 Zuan Yuan, One World Hotel's Two Flavoured Oyster with Oriental Garlic Spicy Sauce & Saffron Chilli Oil

The gala can get quite chaotic, as everyone has to move from booth to booth to try the food. After a while, all those small portions start to build up and you can feel your stamina going.



Zuan Yuan's Steamed Winter Truffle with Chrysanthemum Prawn Paupiette in Pumpkin Paste

Everyone loved Zuan Yuan's fresh oysters laced with a very subtle chili oil. The other item on the menu - the prawn dumpling was average tasting with the pumpkin paste dominating the prawn taste more.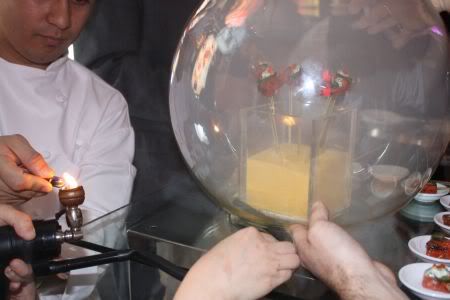 Senses doing their "smoked ocean trout" thing

My vote for one of the best tasting, was Senses. I really loved their table smoked ocean trout. Here you see a larger version they were doing for the gala. In the restaurant, they use a wine glass to cover the ocean trout and smoke it.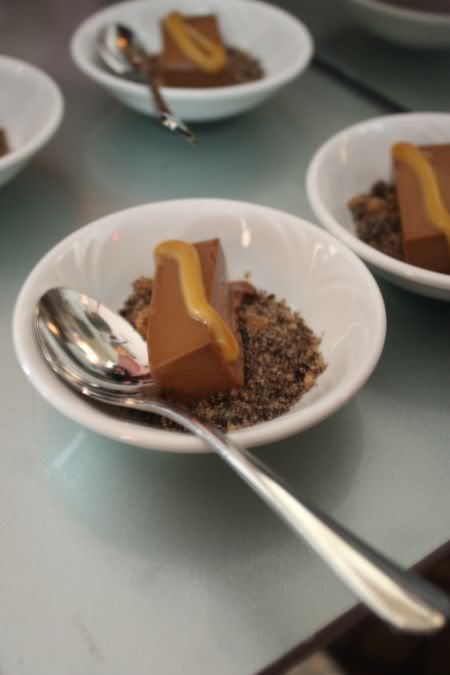 Senses signature dessert

Dessert was one of their signature items - this chocolate terrine with a delicious chocolate crumbs. I really liked this, but sadly they are not serving this for the festival menu.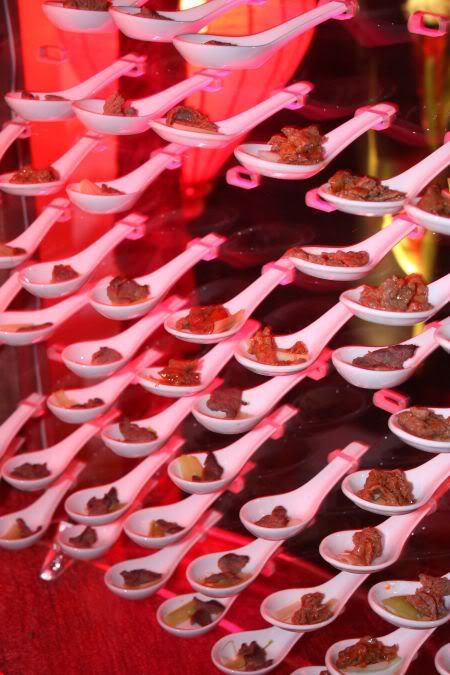 Si Chuan Dou Hua's suspended spoons in the air - boiled sliced venison in sichuan pepper sauce

I liked Si Chuan Dou Hua's chilled noodles with shredded abalone - very refreshing. Also good was Kabab & Qaurma's selections. The kebabs were tender and the rice, nice and fluffy. A little cold since they had to prepare it ahead but pretty good stuff, enough to put this place on my list of "to-try-later-on" restaurants.


Tamarind Springs living goddess

Some of the restaurants outdid themselves with the decor of their booths - the one that takes the cake is Tamarind Springs. This lady was suspended high and above, looking down at us.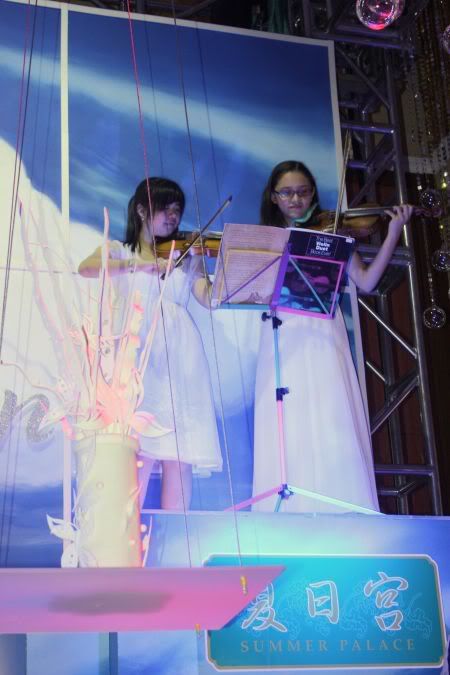 Putrajaya Marriott's violin duo

The host, Putrajaya Marriott outdid themselves with a huge display for their two restaurants - Tuscany and Summer Palace. They even had two girls perched on a ledge, playing the violins. Scary to be looking down from all that way up.



tartlets from Putrajaya Marriott

Lighting was quite bad within the ballroom, so I snapped quite a lot of pictures at the Putrajaya Marriott booth. Didn't manage to try everything though..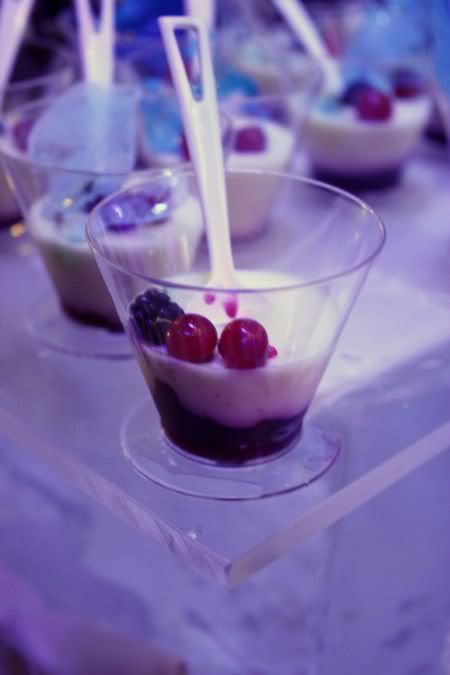 mascarpone cream infused with cherries

I had the mascarpone cream - not too bad and I loved the cherries hidden within the cream. Not too sweet when paired with the cream.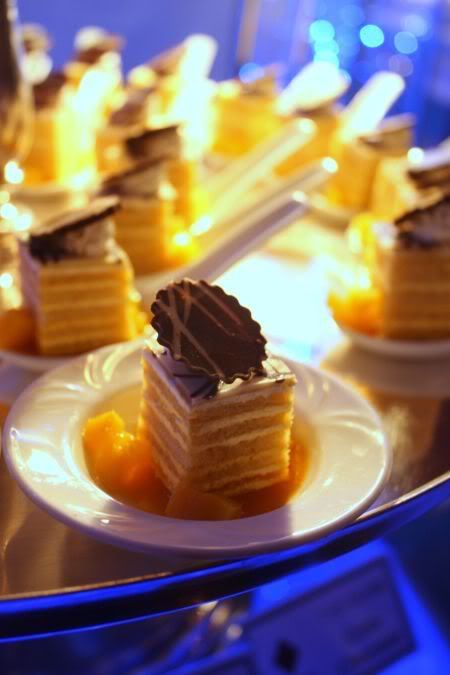 teeny weeny cakes

Since there were so many booths and places we visited, after a while it got to be quite a blur, what we tried.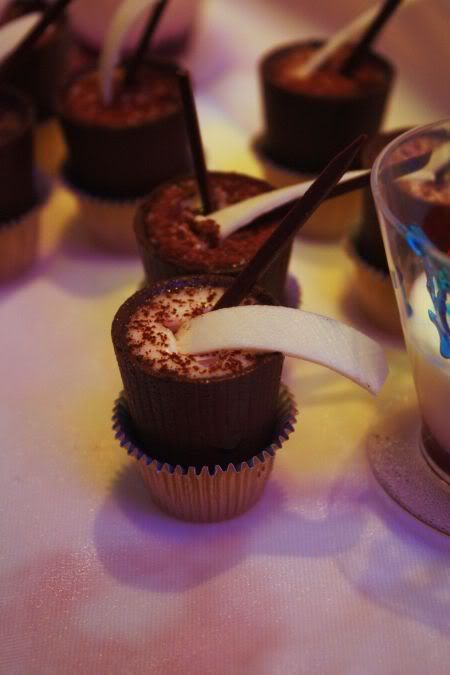 tiramisu - Putrajaya Marriott

There were these cutesy chocolate cups filled with tiramisu cream - not fantastic and kinda didn't taste like tiramisu since it had no alcohol soaked sponge within it.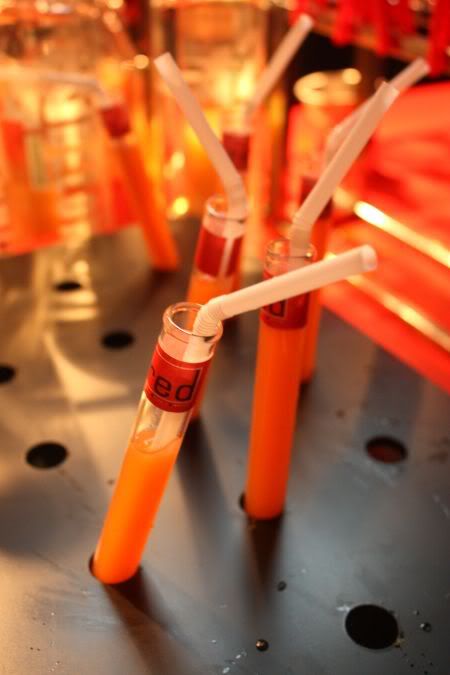 Red's cocktails made with 42 below vodka

Red from PJ Hilton, were serving wickedly delicious cocktails in these attractive test tubes.


eggshells filled with crab bisque

I liked the crab bisque - served in eggshells. Very unique and delicious tasting.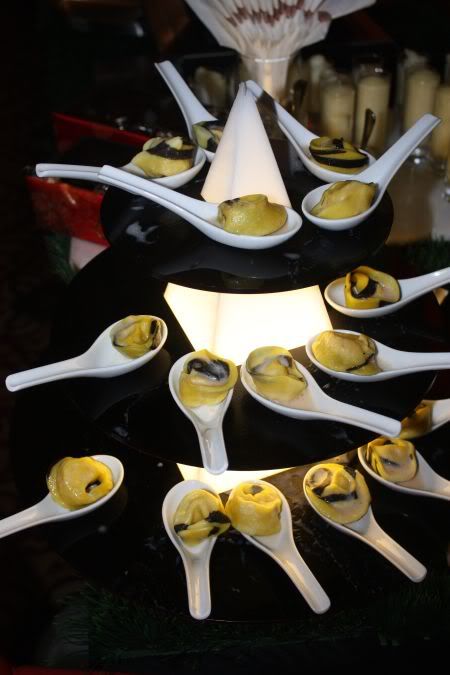 Pacifica grill's langoustine tortelloni

I wasn't too impressed with the tortelloni from Pacifica Grill, but then a bit difficult for them as it was slightly cold already.


truffles from Villa Danieli

We stopped by Villa Danieli, and indulged a bit on chocolate truffles - simply divine stuff. The band was very loud though - you couldn't really chit chat with people you meet moving from booth to booth.

For me, the only place that stood out was Senses. Wouldn't mind going there to try the festival menu. Doubt I can afford the full dinner menu but maybe I can dig deep in my wallet for the light lunch option. For more details on the restaurants and their menus, see the
MIGF official website.