Have you had your fix of these traditional waxed meats for this year? Every year, it's a tradition of my family to eat Lap Mei Fan once Dong Zhi is over. Usually we either buy our own supplies to make it at home or indulge in it at a restaurant. It's my mother's favourite hence she makes it a special point to select a few varieties to cook it at home before Chinese New Year.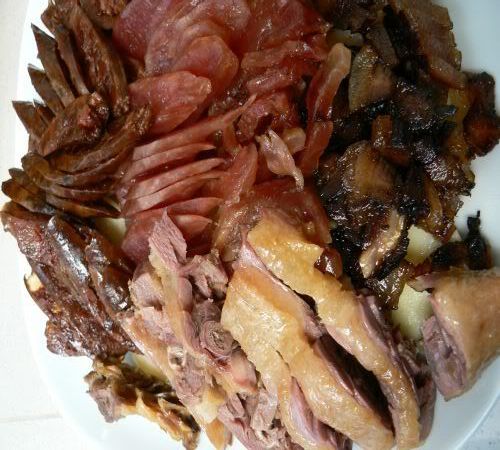 These meats are directly imported from China where the cold winter winds dry these sausages and duck. Packed in metal tins, you can easily buy them from street vendors in Petaling Street or dry ingredients shops in Chinatown.
Although I have been exposed to this type of dish almost all my life, I recently realised not everyone know of or has tasted this before. (My mother recently ate this in Singapore and one of the relative's sons had never seen waxed meats before and didn't dare touch a single piece)
To prepare these at home, it's relatively simple. Although you get the full flavour of the waxed meat if you steam it on top of the rice, it's not very healthy as all the oil seeps into the rice. Instead, we cook the rice and meats seperately. As an additional measure, we blanch the meats in hot water to remove the oil. Once steamed, add the remaining liquid to the cooked rice. You should also serve it with the traditional nga-ku or arrowhead that is flaky and tender after steaming. The selection in the picture features lap cheong (chinese sausages), waxed duck, liver sausages and various other waxed meats.