It's amazing how the feasting starts even before the festive season but I reckon any reason to eat and be merry is always a good thing. This year, Chinese New Year feasting kicks off early since it's the last weekend before the festivities start. Most popular Chinese restaurants are also fully booked as nowadays people tend to eat out more rather than cook their dinners at home.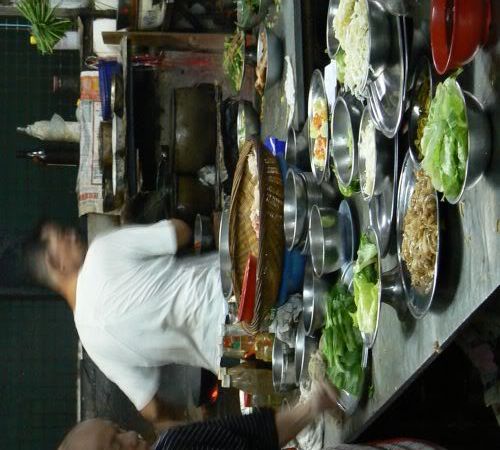 Last Friday, I joined friends who dined with their ex-colleagues at Sek Yuen, the old style dining place I had featured before. It was great fun and we polished off quite a few dishes that night. Some didn't make the cut for this post as I wasn't too careful hence I had some blurry shots but believe me, the people at the restaurant was amazed at how much we could all eat since we kept ordering extra dishes.



Although Sek Yuen has an air-conditioned restaurant, we opted to eat at the older part with whirling fans and the old style atmosphere. I managed to peek into their kitchen and saw them super busy with the preparation of the food. Everyone was zipping around hence you see them slightly blurry since they were on the constant move. It's also amazing how they still use wood for their fires in the kitchen. Ever since I mentioned Sek Yuen, my mother has been telling me stories about how they weren't so famous during her time as there was an even more popular restaurant further down the road. However, it's Sek Yuen which has maintained their business till now while the other restaurant owners' decided instead to close the business and collect rent for their premises.



The table was groaning with the amount of food we had ordered, first of course was the traditional Yee Sang which we had with jellyfish. This was tossed around with lots of good wishes on the stockmarket and as high as we could without all of it dropping all over the table. We also ordered their famous Pei Pa Duck which was featured in my first post, their char siu and onion chicken. All the dishes were classic Chinese items even this sweet and sour pork with the cucumbers and tomatoes.

This was the all time favourite dish - their Kao Yoke with yam slices. Thinly sliced pork belly sandwiched with light yam slices, it was so good, we had to order another portion of it. The moment this dish hits the table, it's all gone within minutes. The sauce here is not as thick as the other places that serve it but you can taste the fermented bean curd (nam yue) they use to marinate the meat.



Slightly blurry picture of the vegetables but it was so good, I had to feature it. Although it's just plain spinach fried with a bit of garlic, it tasted great when you popped a strand in your mouth as they fried it with enough heat in the wok (that wok hei the Chinese talk about or literally translated as breath of the wok) and the spinach was tender. We added another order of the vegetables after we tasted this but it wasn't as good as the first dish. We also had their kailan fried with siu yoke (roast pork) which was pretty good too.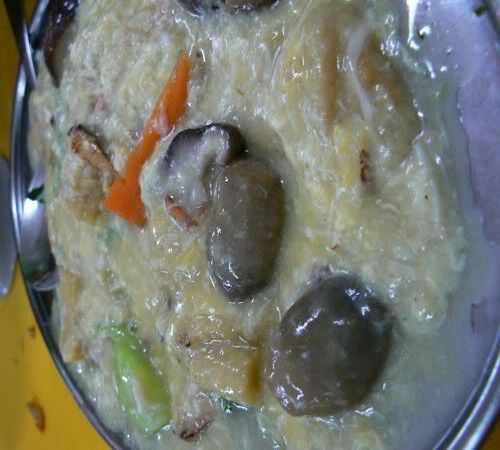 This was something we hadn't eaten for ages - a crab meat, egg, tofu and vegetables mix. Not fantastic but pretty good comfort food especially with their steamed rice.

On the night we ate here, the place was super packed with people who were also having their festive dinners. Since we sat near the kitchen, we saw them preparing the dishes - the typical cold chicken in jelly for the four seasons that were decorated with tomatoes cut to resemble graceful swans. There was even glutinous rice stuffed duck (Lor Mai Arp in Chinese) which looked really good. It seems these dishes need to be pre-ordered. After 10 pm, they started playing music on the gramophone. At one time, they even played marches hence we said, that must be a hint for us to leave soon since they were giving us our marching orders.

It was a thoroughly enjoyable evening and nice meeting people who love to eat. If you want to try their food during Chinese New Year, do visit them as they're open during the whole festive period of 15 days. It's only after the festive season they'll take a break as this is the busiest time for them. (Note most hawkers in town will take off during the Chinese New Year period as it's their annual holiday)

Sek Yuen

Tel No: 03 - 9222 9457

(Non Halal)

*Disclaimer: The opinions expressed here is entirely based on my personal tastebuds and may vary for others. The reviewer also declares that she has not received any monetary or non-monetary compensation from the restaurant for writing this review.