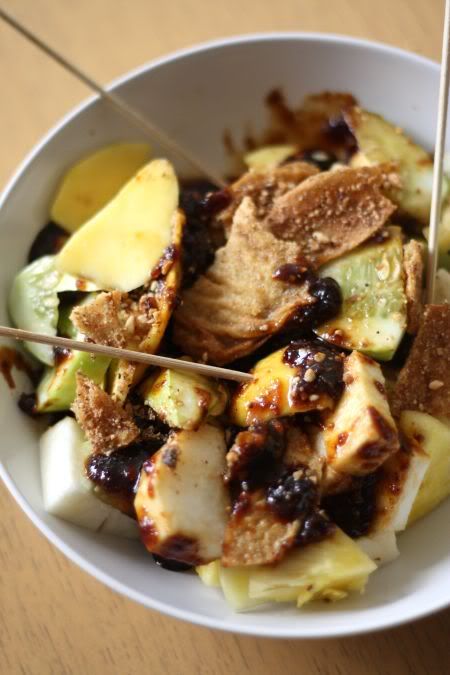 addictive fruit rojak that you can keep eating every day

Those from Kedah or up north, would have heard or tasted Mak Bee's rojak sauce - a household name since it started out in 1979. This thick rojak sauce is highly sought after by the locals who have migrated over to the Klang Valley like Adly of Fried Chillies (Congratulations to their team as their street food video has been picked for the New York Food Film Fest for June 2009!!!). When he heard Splashie Boy knew the current proprietors of Mak Bee's, he quickly ordered 5 containers of that prized rojak sauce. I also jumped in and got myself 5 containers, thinking it must be damn good for Adly to put in such a large order.
it is all in the sauce; made from belacan, chillies, soy sauce, sugar and peanuts

After procrastinating for a few weeks, I decided to give it a try by buying a selection of fruits from the nearby stall. The stall proprietor thought I was real weird I didn't want any sauce with my fruits - a mix of pineapple, yambean, cucumber, guava and mangoes. Oh my, how I wished I had tried it earlier as the thick, sweet, peanut laden and spicy sauce was so addictively good. Yesterday, my colleague gave it a try and she kept asking for more! So much more, that she even ventured down to the canteen to see if she could get some fruits to go with the sauce. We reckon, this indulging in fruit rojak made from Mak Bee's amazingly good rojak sauce is going to be a daily ritual. Slurp!! More pictures of the rojak are in
Flickr.
If you wish to get your hands on this amazing rojak sauce (we bought each bottle at RM3.50), their distributor, Pak Lang Dodol is at NS. 32, Lorong Kelapa, Central Market, Jalan Hang Kasturi, Kuala Lumpur. The place is open daily from 10am to 9pm. Alternatively if you want to make bulk purchases contact Rue Jacque Enterprise by emailing them at
ruejacque@gmail.com
or call Aslan Abdullah (013-392 5005) or Nadiah Abdullah (019-6625005).

*Disclaimer: The opinions expressed here is entirely based on my personal tastebuds and may vary for others. This review is time sensitive; changes may occur to the place later on that can affect this opinion. The reviewer also declares that she has not received any monetary or non-monetary compensation from this place for writing the review.