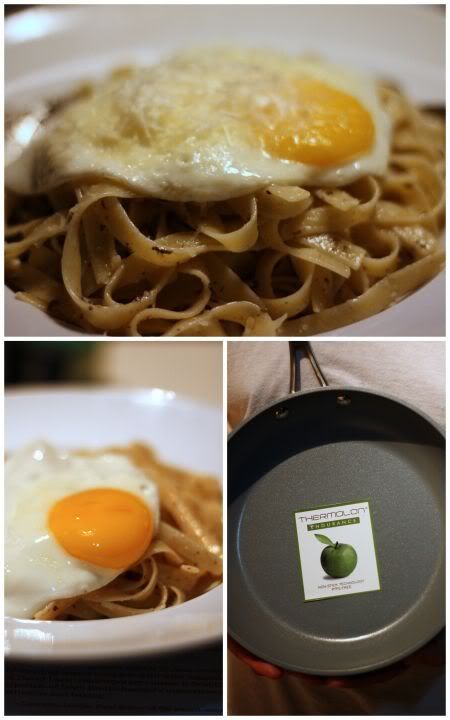 1. Truffle oil


On the way back from Italy, I was "forced" to transit in Paris Charles De Gaulle Airport for a few hours while waiting for my connecting flight to Singapore. Since it way too expensive to get a Prada handbag in duty free even though they looked mighty tempting, instead I consoled myself by getting gourmet goodies. Not a huge variety of items but they had truffle oil, something I have been eyeing for a while. Definitely lighter on the wallet vs whole truffles. Last night, I had to chance to break the seal and sniff the oil. Fantastic stuff that smelled so heavenly I reckon they should make it into body cream or even perfume. Expect more homecooked meals with truffle oil. I reckon, I can add it to mushrooms soups and mashed potatoes. For last night's dinner - I infused my raw egg with the oil and slowly fried it. Somehow the egg tasted richer and a tad more luxurious than normal.

(Postscript: For those who want to get truffle oil, delicious ingredients at Dua Residency stocks white and black truffle oil)

2. Truffle salsa

Fans of Tetsuya will know of his infamous truffle salsa. Google it on the net and you'll find it everywhere. Sadly I have yet to taste this famous salsa (saw it once at Uncle Ho's!) even though I have been trying my best to get my hands on it. I spied a bottle of truffle salsa (not Tetsuya's though) at delicious ingredients recently and decided to put it to good use. A mix of a spoonful of the aromatic black truffle salsa transformed my ordinary pasta into something spectacular. Amazing stuff. Next I plan to make that famous truffle butter everyone raves about. Can't wait to try that.

3. Greenpan

Asian Food Channel viewers will definitely know all about the
Greenpan.
Recently I got my hands on one and decided since I had to make fried eggs last night, it would be appropriate to "de-virginise" the pan. Amazing item, as my eggs slid off easily making fried eggs, a piece of cake. I reckon I'm in love with the pan, which is coated with Thermolon vs Teflon, which when overheated releases all those harmful substances. Next test for the pan is seeing if it can last in the oven.

4. Finely grated Parmesan cheese

Last but not least, I love all kinds of kitchen gadgets and one of my favourite buys has been my Microplane grater. It works so well with hard cheeses like Parmesan - creating fine ribbonlike shreds that melt in the mouth when you eat it. That small but crucial addition seems to add that extra oomph to my meal.

* Note 1 - my recipe for dinner was based on
David Lakes' recipe on Cuisine.
I made some changes like adding more truffle salsa to my own taste and keeping the pasta water to toss the ingredients together as they tend to stick after it gets slightly cold.
** Note 2 - took me 30 minutes to cook the dinner and in return, it was utter bliss especially when you break the egg yolk, mix it with the truffle salsa pasta and take a large forkful of

pasta - yummmmmm....