salmon topped maki
Apologies for not blogging for some time - as usual work and life just caught up with me. This has been sitting in the inbox since Sunday night, but one has been so busy this whole week, I've not had a chance to finish it. Anyway, if I'm not busy eating lou sang, it's Japanese food for me and with the Chinese restaurants all booked up, I've been dining at more Japanese outlets this festive season. I'm a big fan of the Super Dining Group, which is popular for its Japanese eateries - Rakuzen, Sushi Zanmai, Pasta Zanmai, Kura in One World Hotel but strangely for some reason I've not ventured into their first outlet, Zen at Sunway Pyramid until recently.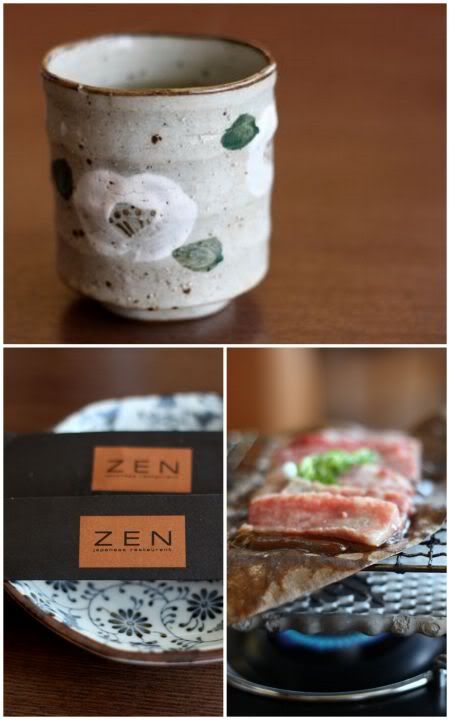 rustic green tea cups, wagyu on hoba leaf over the grill, Zen chopsticks with blue and white plates
I generally don't have any complaints about the quality at their outlets and they keep regular diners coming back for more with promotions of special dishes like this Fuyu No Sachi or Winter dining menu at Zen. The menu is pretty interesting with selections like fugu or puffer fish sashimi (10-12 pieces for RM75), fried puffer fish, king crab hot pot and etc. While some items are obviously not winter items, they give a new twist to old items.
my favourite - aburi kaki carpaccio (RM18)
Food took a while to come, hence I was bored stiff and playing with the camera but once it came, it was great stuff. My absolute favourite was the Aburi Kaki Carpaccio (RM18) - broiled or grilled oysters with seaweed, sliced Japanese cucumbers and drizzled with a soy based sauce. Simply gorgeous!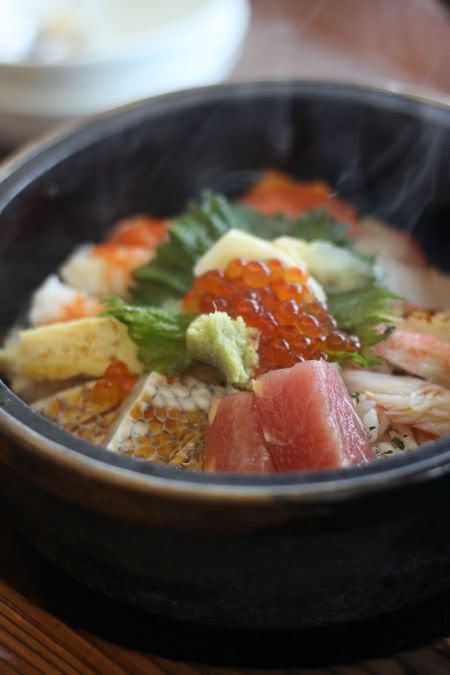 stone bowl rice meets sashimi
I had ordered from the special menu, selecting those more unusual items like the Ishiyaki Kaisen Chirashi (RM35)- rice served in a hot Korean stone bowl and topped with fresh sashimi. When it arrives on the table, soy sauce is poured at the sides and mixed to form crust. Best eaten straight away, if you prefer your sashimi uncooked. remove it quickly as the residual heat tends to cook the fish quite fast. The portion is quite generous and enough for two people to share, if other dishes are ordered to share.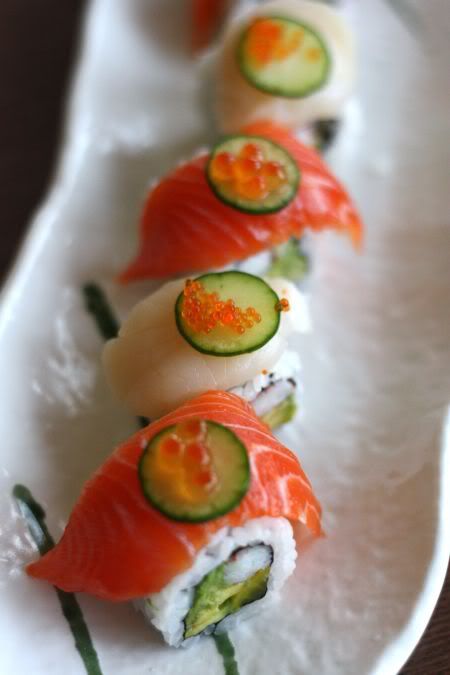 winter roll
We also ordered the Winter Roll (RM25) - scallop and salmon sashimi slices that top maki made with avocado , crabmeat, radish pickles. While it looked visually stunning - the mix of pink salmon with the white scallop topped with ikura, I felt that the taste was quite ordinary though. Beef is always a must for Splashie Boy hence it was Wagyu Houba Yaki (RM68) - slices of wagyu beef that are grilled on top of a dried yuba or magnolia leaf. Red miso is also added to give the beef flavour. I would have preferred the beef minus the overpowering miso taste though. Nevertheless the wagyu beef slices were tender and cooking your own meal is always fun. Food was pretty good that I wouldn't mind returning to try items from their a la carte menu. It seems less packed compared to Sushi Zanmai that is across from here, hence you don't need to wait for a table during busy times.
Zen Japanese Restaurant
OB2-F-U2
Oasis Boulevard 2
Sunway Pyramid
Petaling Jaya

Tel: 03-7492 4922
(Pork free. Restaurant is at the Oasis Boulevard section just off Parkson. More pictures are found in the Flickr set.)

*Disclaimer: The opinions expressed here is entirely based on my personal tastebuds and may vary for others. This review is time sensitive; changes may occur to the place later on that can affect this opinion. The reviewer also declares that she has not received any monetary or non-monetary compensation from this place for writing the review.

Tagged with: Sunway Pyramid + Japanese food