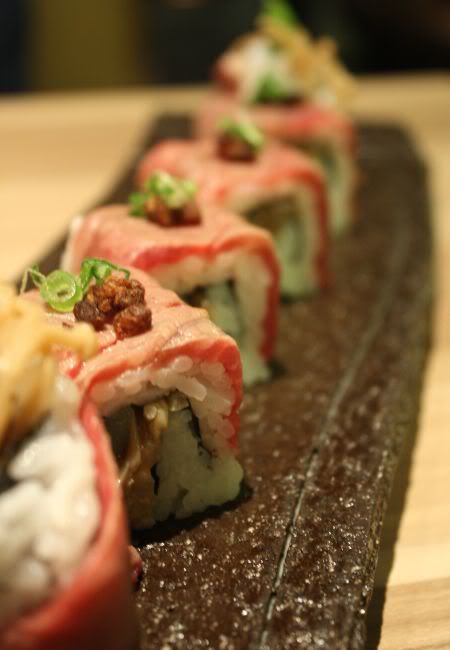 delish Senjyu Wagyu Maki - with asparagus and fried onions (RM39.90++)

Apologies for the late posting.....been kinda busy again, as I needed to sort out my car this week. A quick note, that I forgot to post up on Monday, Godiva Chocolates has opened their outlet in Suria KLCC. We saw them opening their doors on Sunday and frantically getting everything ready. The store, in front of the escalators and next to California Pizza Kitchen, is not very big - watch out for the high step at the entrance, I almost tripped when I walked in. There are packed chocolates, chocolate truffles you can select and chocolate drinks to take away. While everything looks good, be prepared to dig deep into your wallets, as stuff here is pricey (we reckon even a chocolate bar is about RM20 and the chocolate blended drinks is RM22). I kinda suspect chocolates will be cheaper if you buy them in KLIA but since I don't regularly buy chocolates, I can't really confirm the prices.


super fresh Giant Hotate & Mushrooms (RM49.90++)

Back to today's post - a change from the Ramadan Bazaars to appease the other fans. I decided to visit the latest place for Japanese fare in Sunway Pyramid after reading about this place from
ling239,
.


foie gras and oyster mentai maki (RM24.90++)

The place is nicely decorated in cool black, bronze crane figures (seems Senjyu is Japanese for crane), green bottles and bronze covered chairs. Part of the same group in Singapore who owns Sakae Sushi, this outlet was previously Genki Sushi. The holding company of Sakae Sushi, bought all the Genki Sushi outlets when the franchise holder in Kuala Lumpur decided not to renew the franchise agreement. While the outlets in 1 Utama and Suria KLCC have been changed to Sakae Sushi, only this place sports a new concept and name.


salmon trio (RM14.90++) - caterpillar like sushi and ikura gunkan sushi
While this place still sports a conveyor belt, looking at the menu offerings and prices, you know they are trying to go upmarket. I reckon, they kept the conveyor belt because, it was already fitted in. The outlet just opened in August 2008 and another outlet is set to open at Cathay Cineleisure, Damansara in mid-September. Seems the concept will be similar in the new place, and they will also offer yakitori (grilled food on skewers) there.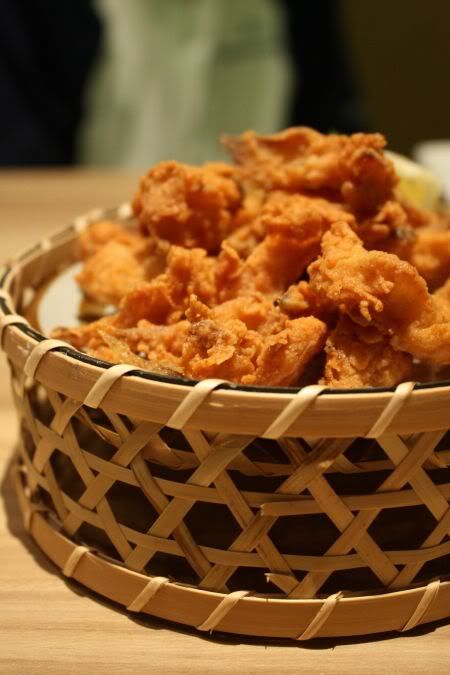 soft bone chicken Nan Koysu Karaage (RM14.90++)
I had a fun time trying the items here, but they are definitely not cheap. Most expensive item on the menu is RM129 - for a special type of sushi served with shabu shabu. The conveyor belt, does not really have a lot of items and prices range from RM4 to RM16. Items like the plain cucumber maki are RM4, while RM6 will get you the salmon sushi (with the longish tail) and tuna topped makis.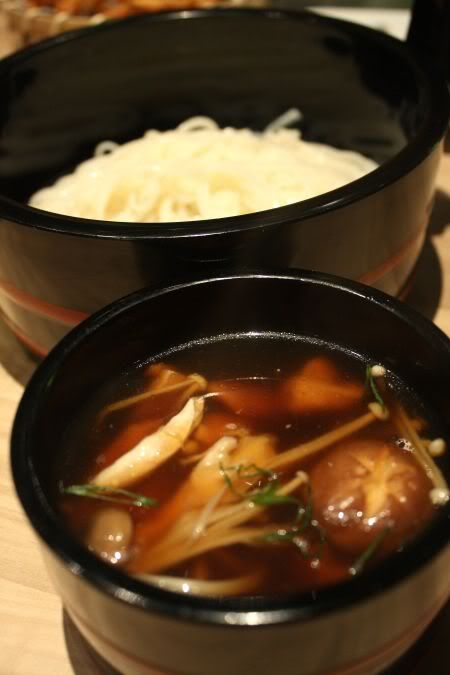 there's also a charcoal udon but we went for the inaiwa with a mushroom and chicken broth (RM19.90++) instead
Some offerings are pretty unique - for instance, instead of a short piece of cut fish covering the sushi rice, here they offer a long piece of fish (about double the size) that can wrap round the rice. While this means more fish to eat, one thing they forget when they designed this unique fish roll is the practical side of it. The roll ends up being a little too big, to fit in the tiny soy sauce plate, when you want to dip it in. Instead, you have to carefully fold the fish round the sushi rice to eat it.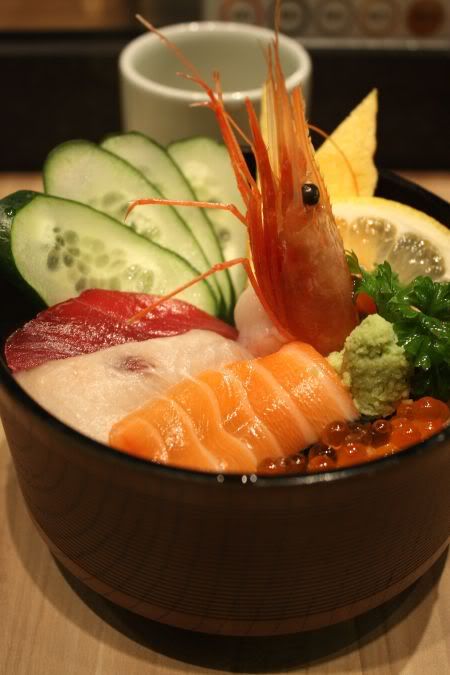 miniscule chirashi sushi (RM25.90++)

I found the high end items, especially those items you order from the menu pretty good. My favourite was the giant hotate (scallop), you cook yourself on a grill with mushrooms. Very fresh and sweet! There are also a lot of maki choices (about 20 varieties) - wagyu beef slices wrapped rice with asparagus that Splashie Boy loved. They also had a luxe oyster and foie gras maki with cod roe. While the oyster maki was very nice, as it was topped with a large juicy oyster, the foie gras maki was kinda sad, as they give really thin slices. So thin, you don't get that melt in the mouth texture from foie gras. Another interesting item they have is charcoal udon, that is dipped in soy sauce. We didn't try that but went for the inaiwa udon instead - silky white cold noodles with a broth filled with mushrooms and chicken pieces.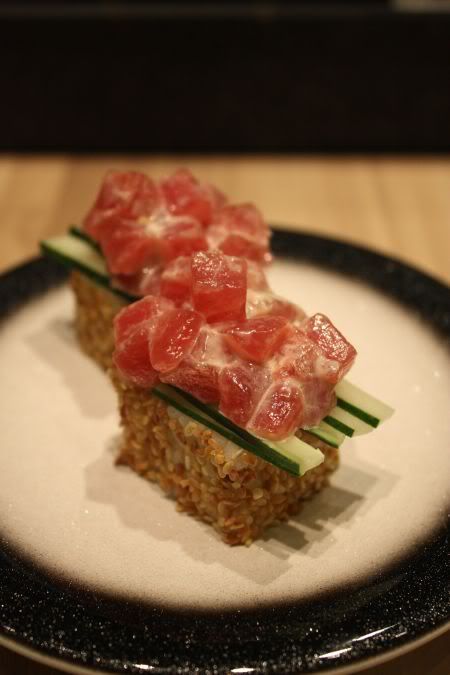 Tuna sushi from the conveyor belt (RM6++)

While, I loved the high end items and would not mind returning for the makis......this place is definitely not for those on a budget. For instance, the chirashi sushi is miniscule. Hope you can see from the picture, how small it is as I placed the green tea cup next to it to show all of you. It was kinda small and the sashimi slices given were really thin. I fared better with the conveyor belt choice - a sushi topped with chopped tuna mixed with mayonnaise, that was pretty good since they coated the sides with sesame seeds.
Another plus point about this place is the service here - very impeccable especially if you get the lady manager. She painstakingly explains things on the menu and asks if everything is okay without being too nosy. Hence, I won't mind returning back for the food again BUT I reckon, I'll just order from the menu the more unusual items, as the usual items like chirashi sushi aren't really worth it. Also another word of caution, try and visit them on Tuesday and Friday, as that is when the fish is the freshest since shipment comes in those days from Japan. I made the mistake of dining here on a Monday, and believe me the fish wasn't so fresh compared to my other visit here. For more pictures, click on my Flickr set.
Senjyu Sushi
F1.05, Sunway Pyramid
No. 3, Jln PJS 11/15
Bandar Sunway
Selangor
Tel: 03 - 7492 6236

(Pork free. Place is on the same floor as TGV)
Disclaimer: The opinions expressed here is entirely based on my personal tastebuds and may vary for others. The reviewer also declares that she has not received any monetary or non-monetary compensation from the restaurant for writing this review.

Tagged with: Senjyu Sushi + Japanese Food

Other review: